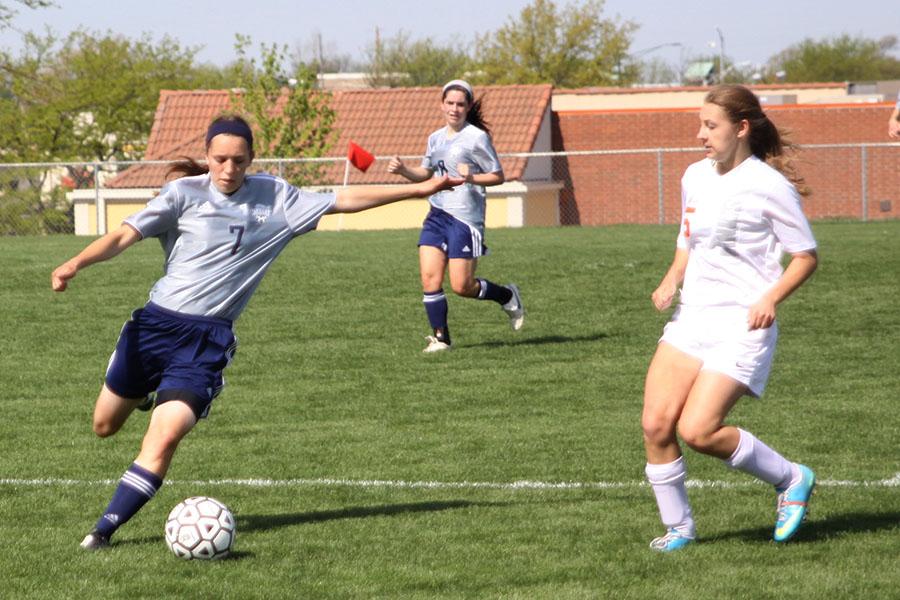 Photo by Amber Nguyen
The girls soccer team fought hard for a win on Saturday, May 3 but came out with a 3-0 loss against the Shawnee Mission Northwest Cougars.
Despite the score, coach Arlan Vomhof was pleased with the team and how they played.
"Today was one of our better performances and I don't think the score really showed it," Vomhof said. "We had people attacking the ball, we played a lot harder today and we've been working on possessing and connecting passes."
After the first half, the girls had to adjust to some obstacles to keep up with Shawnee Mission Northwest.
"We had to make some corrections [in the second half]," Vomhof said. "The players were tired and we had some injuries but I was happy with where we finished off."
Junior Val Stuerman thinks that there are still some things the team could work on after this game.
"We kept the ball and played really well," Stuerman said. "But we still need to work on cutting off wide passes and getting shots on goal."
Vomhof plans on improving on some of these skills during the team's practices.
"There are some things that we noticed today that we need to work on," Vomhof said. "We need to work on our possession and we still need to work on our attacking third."