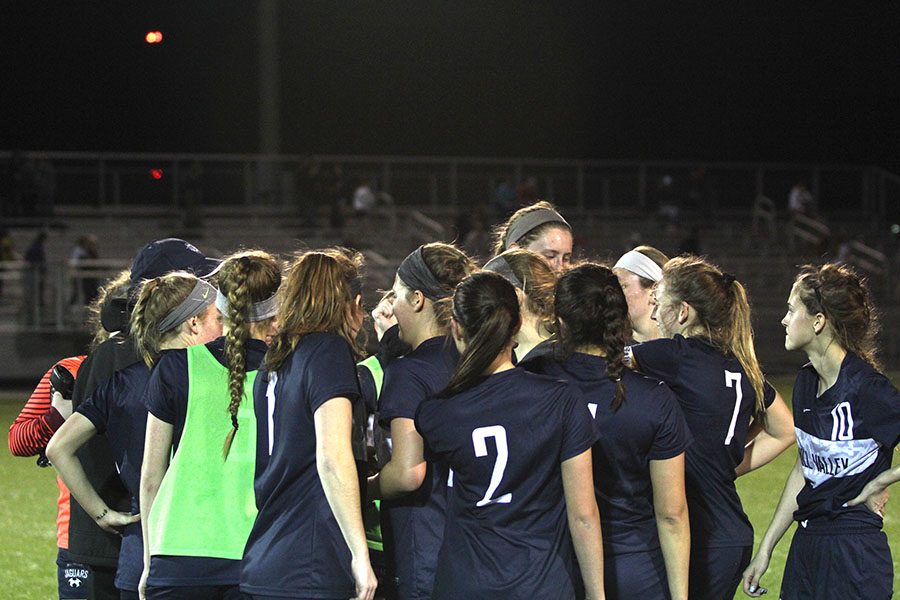 Carter Lawson
The girls soccer team defeated Olathe West 4-0 on Thursday, March 22 in their first game of the season.
This is Olathe West's first year open, and according to senior Payge Bush, this affected how the team felt going into the game and made the win a surprise.
"I did not expect [the win] considering this is a new team and we didn't know how they were going to be," Bush said. "I think we were all really surprised that we pulled it together."
In the weeks leading up to the first game of the new season, according to head coach Arlan Vomhof, the team has focused on learning the new players and bonding together.
"We're really working on just trying to gel because we have a lot of girls who play on different teams," Vomhof said. "We've scrimmaged a lot just to get the girls used to playing with each other."
The first half begin at fast with three of the four goals being scored. However, according to Vomhof, the second half went better because they were able to slow down the pace of the game..
"First half, [the Mill Valley players] were all kind of hyped up, [and] were chasing balls everywhere," Vomhof said. "When we talked to them about what Olathe West was doing, the girls came in and settled in their positions. It was just a much better second half."
Bush believes this win brings confidence to her and her teammates looking forward to the rest of the season.
"It's a new team and they were a good team, so I think this will just really help us out with our confidence," Bush said.  
Looking into next week, Vomhof also believes the win will instill confidence in the players, specifically the ones new to the team.
"For next week it gives us a lot of confidence because we came in, we did well, we've got Gardner and Olathe North, so we hope to win [those games] and then we get into league play," Vomhof said. "To start, it's a good confidence builder for those who are new [to the program]."
Girls soccer will play next week Gardner-Edgerton Monday, March 26 and Olathe North Wednesday, March 28. Both games will be at home.