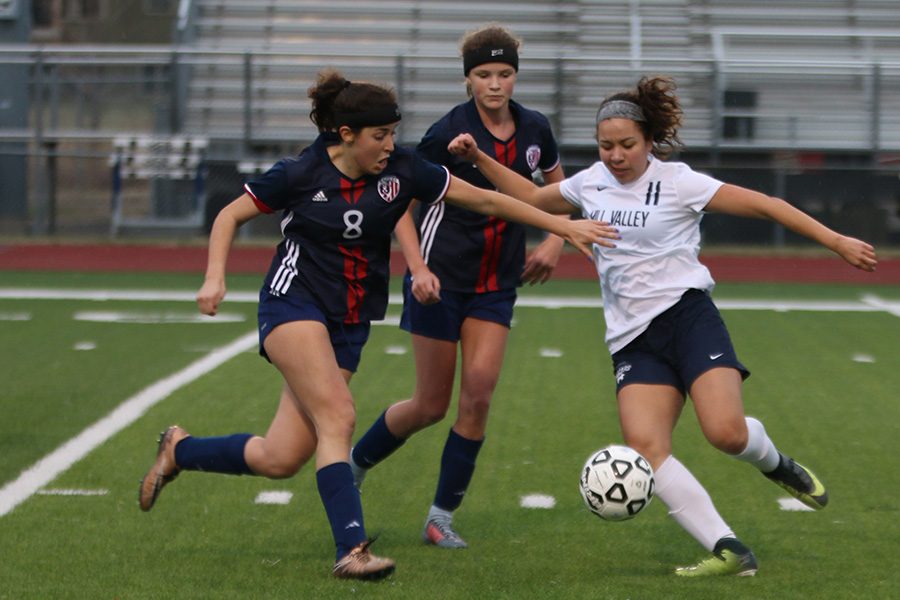 Libby Mullican
The girls soccer team defeated Olathe North 4-0 at home on Wednesday, March 28, bringing the season record to 3-0.
Less than two minutes into the game, senior Adde Hinkle scored the first goal of the game for the Lady Jags. Being able to gain an early lead helped senior center defender Gracie Eckardt and her teammates relax.
"Tonight, we definitely kept a cool head," Eckardt said. "We tend to get really excited and that affects our playing, but tonight we really got comfortable and scored right off the bat and that settled us in."
After having previously lost to Olathe North last season, junior goalie Grace Goetsch and her teammates wanted to redeem themselves.
"We've been building up to this game in particular because last year we lost to Olathe North and it was one of our only losses," Goetsch said. "We've been watching them play and we scouted them in their first game."
After already having played a game earlier in the week where the team defeated Gardner 5-0, Eckardt felt the team became more prepared to face Olathe North.
"We have been practicing throughout the week. We had a game on Monday and that was a good entail into what this game was going to be like," Eckardt said.
At the end of the first half, the Lady Jags led 3-0 after goals by senior Cori Carver and sophomore Christina Talavera. According to Goetsch, the team had to speed up their play compared to previous games.
"Our first couple of opponents haven't been very skilled, but this is the first team that we've come up against." Goetsch said. "We had to play pretty fast and adjust to that."
Despite the win, Eckardt believes the team could still push themselves to a higher level.
"I think we can improve our first touch as always, communicating as a team, checking our shoulder and little things like that that'll help us get to where we need to be," Eckardt said.
With just under 15 minutes left to play, senior Payge Bush scored the final goal for the Lady Jags, pushing the score to 4-0. Goetsch attributed the win to the team gaining control of the ball better and adapting to the other team's defense.
"We were able to win balls in the air more and we had to adjust our defense because they put three defenders up top which is something we haven't played against," Goetsch said.
After the game, Eckardt realized how well the team could work together to pull out wins.
"I think we are all willing to fight for one another," Eckardt said. "We're all willing to fight for each other and dig deep to get that win, that extra goal and to hold our own ground and not get pushed off that ball."
The team will compete next at BV Northwest on Tuesday, April 3.