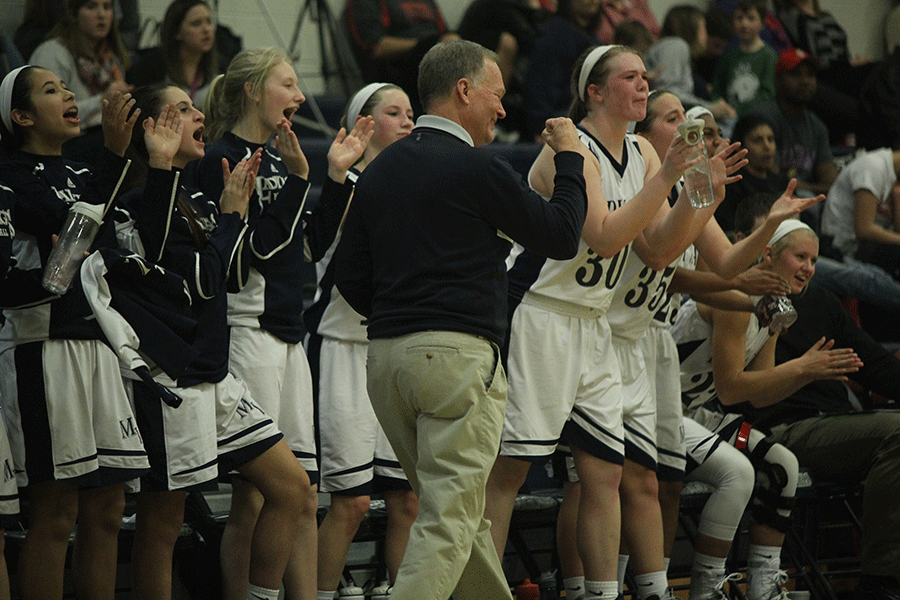 Photo by Alexis Strauss
The girls basketball team defeated Lansing 63-42 on Tuesday, Feb. 10. The win increased their record to 12-3.
Senior shooting guard Whitney Hazlett said she was proud of her team's performance and the 15 points she scored.
"[The game was] very exciting. We came out strong, executed our plays, passed the ball and came out better than we did last game against them so that's good," Hazlett said. "I think I had a really good, game probably one of the best games this year."
Junior post Catie Kaifes said fouls increased towards the end of the game as players became tired which hurt the team. The Jaguars fouled 13 times and scored a total of 19 points from free throws.
"I think we improved a lot, we still have some stuff we need to work on, like not fouling because we can't guard," Kaifes said. "But [when the other team fouls] it's good because it's more points for us."
The team started the second half with a score of 41-19 and continued to hold a significant lead until the final buzzer. Kaifes credited the team's success to passing the ball.
"I think I played pretty well, we were pretty solid we had a lot of good ball movement," Kaifes said.
The team beat lansing in overtime with a score of 55-52 during the last game. Hazlett said she was pleased with the team's improvement.
"Last game we only beat them by one in overtime so we knew it was going to be tough. I think we were really prepared for it. We came out way stronger than we did last time and we won," Hazlett said. "It was amazing considering we only one by one last time. It was what we needed.
The Jaguars will play their next game at Turner High School on Friday, Feb. 13.