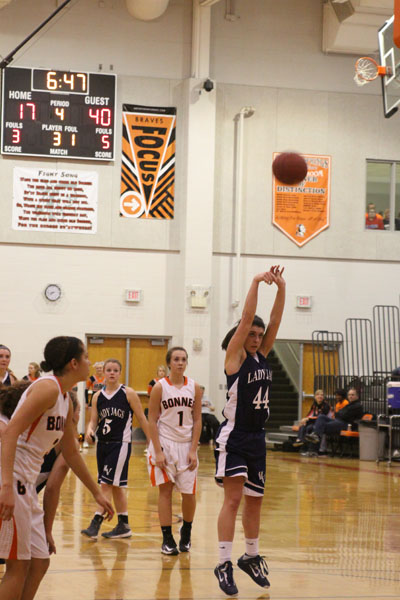 With five seniors on the varsity girls basketball team and a 7-1 record, the team is optimistic about its away game against Shawnee Mission South on Friday, Jan. 18.
According to head coach John McFall, key South players include junior Allison Hines who has been starting on varsity since freshman year and senior post player Sam Bendrick. To prepare for the game the girls have scouted South so they can know their game plan. Last year the varsity girls beat SM South and hope to do so again on Friday.
"We are going to be ready to play and very prepared for everything [SM South] throws at us," senior point guard Mackenzie Conklin said.
The girls hope to add South to their list of big wins which include Gardner-Edgerton on Tuesday, Dec. 4.
"[I am most proud of] the way our team came together and was able to beat Gardner," Conklin said. "Us five seniors have been playing together since seventh grade and have not beaten [Gardner] since seventh grade."
According to McFall, fans are very important to the team.
"One thing our girls do is work hard and play as a team," McFall said. "When fans get involved in the game there is more excitement."