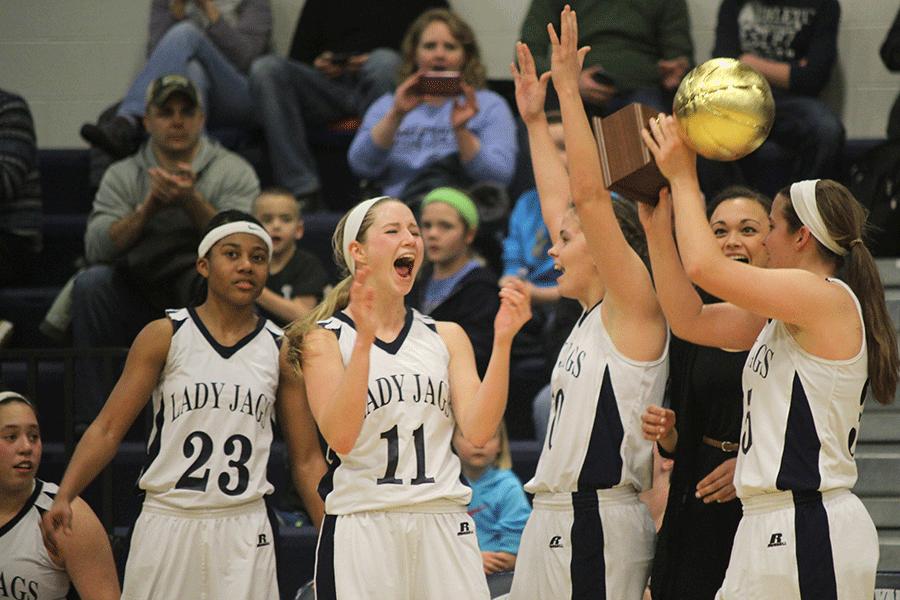 Photo by Madison Ferguson
The Lady Jags defeated the Basehor-Linwood Bobcats 47-36 and earned the Kaw Valley League champion title in the final game of their regular season on Friday, Feb. 27.
According to head coach John McFall, the team's victory can be accredited to their tenacious attitude and versatility as players. Despite facing adversity due to the lack of two starting players, senior Whitney Hazlett and sophomore Courtney Carlson, due to injury, the team pulled out a win.
"If everyone does what they're supposed to do every trip, good things happen," McFall said. "Tonight's a perfect example — we've got two starters not in [the game] who happen to be our third and fourth top scorers and we've got people playing different positions than they've ever played before.They didn't feel sorry for themselves; they stepped up and got it done."
Following the game, the team's seniors, as well as all other senior winter sports athletes, were honored alongside their parents and presented with parting gifts.
As her last regular season of high school basketball comes to an end, senior Jabria Leggett said her team is what she will miss most.
"[I'll miss] just being at practice every day with my teammates … We've worked hard from day one;  we make each other better every day," Leggett said. '[We] push each other as hard as we can and here we are at 17-3 at the end of the season."
Senior Lexie Myers said she believes she has left a positive impact on the younger players by knowing what she is able bring to the team.
"[I've been a role model by] definitely being a role player and knowing my role and never trying to do too much and always just trying to help out the team," Myers said.
The team will begin its journey to state this Wednesday, March 4 in a game against Blue Valley West at home. McFall said the team will play its postseason games with the same philosophy in mind as any other game.
"My expectation will be that they play hard, that they guard hard, the same thing [I always expect]," McFall said. "Right now, we're 17-3 and tomorrow morning we're 0-0. We'll start with the same philosophy and that's win trips. We just want to see how far we can go … I don't prognosticate, I just focus on the next game."