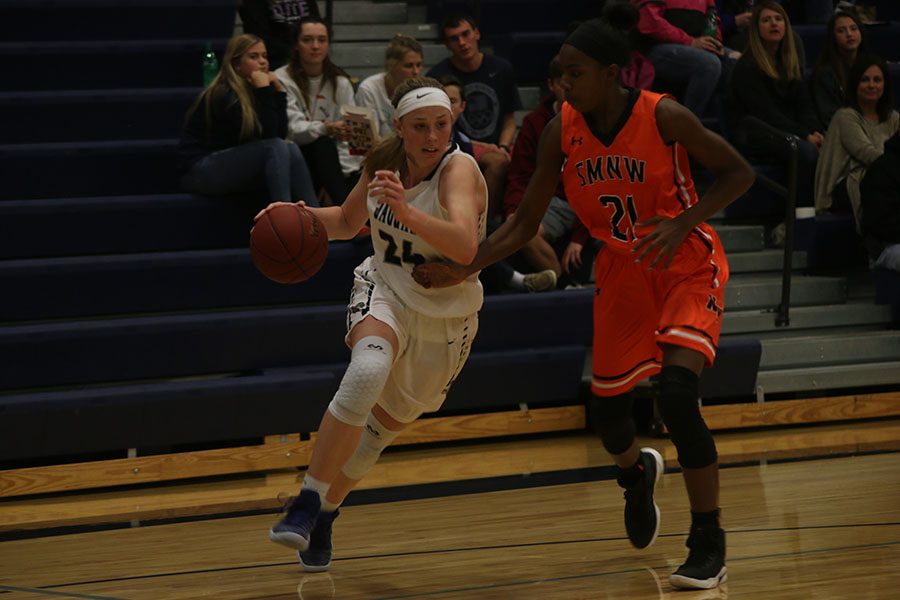 Carter Lawson
The girls basketball team secured a 44-39 victory over Shawnee Mission Northwest in their first game of the season on Thursday, Nov. 30.
According to senior Adde Hinkle, one of the major components in the Jags victory resulted from the enthusiasm that the team walked onto the court with.
"Everyone was excited and ready to play the game," Hinkle said. "We went in confident to get the win and it really showed in our hustle on the court."
There were ups and downs throughout the game, but Hinkle says that she considers the entire game worthy of a highlight.
"The whole game in my opinion was a highlight," said Hinkle. "We did good things through the whole game. We were making threes, getting a lot of rebounds, stepping up and making pressure, game changing free throws and of course blocking shots."
Junior Presley Barton agrees with Hinkle by saying that the game was filled with good plays, but she says that Hinkle is the one who brought them into the game strong.
"We all played really well together," Barton said. "But what brought us into the game and helped a lot throughout was the fact that [Hinkle] made so many three-pointers."
Although the Jags came out on top, the game still had some difficult moments.
"I would say the most difficult part of the game for us was when the other team started to press us," Hinkle said. "It caught us off guard a bit and rushed us."
However, the Jags were able to overcome this obstacle and proceed to win the game.
"We eventually got through and were able to take control back," Hinkle said. "From there, we were able to win the game."
The next game for the Lady Jags will be on Monday, Dec. 4 against Excelsior Springs.