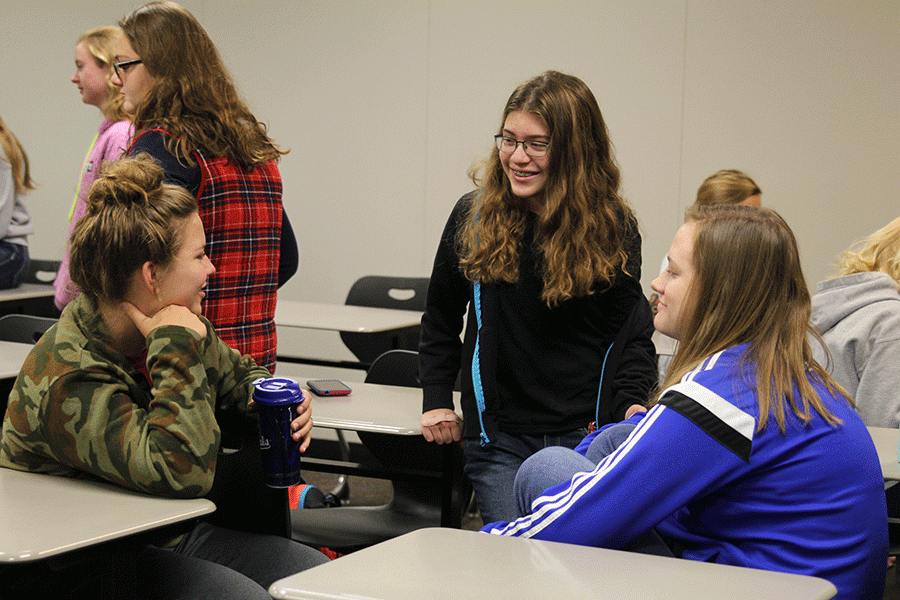 Morgan Gurwell
Upon walking into a regular Club 121 meeting, one can spot freshmen mingling with upperclassmen, engaging and creating relationships through scripture and testimony. This year, Club 121 has welcomed several new freshmen and plans to further their involvement throughout the club.
According to junior club president Jordan Robinson, the structure of the club has changed over the past few years, ultimately creating a more welcoming environment.
"Last year was the first year it was actually an official club … We've had more organized leadership and that allows our club to grow," Robinson said. "This year, we transitioned into a lot more outside of school events."
Robinson said that this club structure attracted several freshmen in particular this year.
"Freshmen are really enthusiastic about [the club], they come to most of the events," Robinson said.
Freshman Eva Burke said she enjoyed the structure due to the personal testimonies incorporated into meetings.
"You get to hear a lot of people's opinions and their stories to their experiences," Burke said.
Burke also said that the incorporation of freshmen into small group activities is beneficial.
"Whenever we do small groups, you have to have someone from a different grade," Burke said. We're mixed with a lot of upperclassmen so we meet everyone so now I'm more comfortable talking to them."
According to club sponsor Brian Rodkey, freshmen are the "life-blood" of the group, ultimately helping the club to grow larger.
"If you can get the freshmen involved, then they're involved for four years and if they're really enjoying it then … hopefully they're going to get their friends involved and then we grow," Rodkey said.
The inclusion of freshmen creates a more lively environment throughout meetings, according to Robinson.
"[Freshmen] make it more down-to-earth," Robinson said. "A lot of time, us older kids get so focused on the logistics and the verses that we're going to talk about. Then, all they want to talk about is just their life and what's going on with them so it really makes it more personable."
As much as the freshmen impact the club, Rodkey said that the club also thus impacts freshmen in return.
"It gets them involved with a group, it gets them to know some upperclassmen and hopefully makes them feel apart of Mill Valley," Rodkey said. "As far as their Christian life and their faith, the older students can have a big impact on that."
Ultimately, Robinson hopes that Club 121 is beneficial to its freshmen members.
"I think this club is a place where the freshmen in our club can find encouragement and can find Christ-like mentors and people who have the same beliefs as them who they know they can trust."