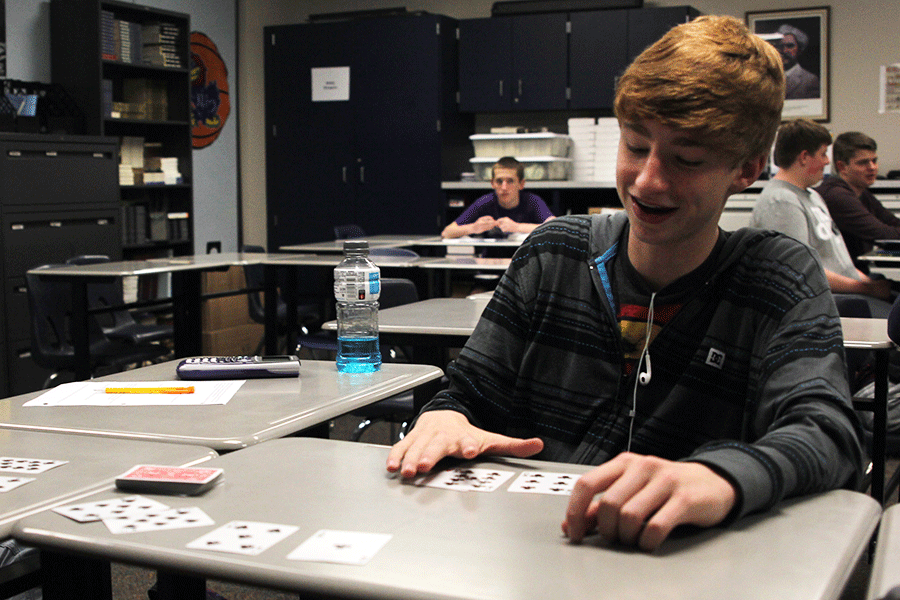 Photo by Jena Smith
For most students, passing periods are for grabbing school supplies and talking with friends before class starts. However, for freshman Jason Easley the passing period before seminar everyday is about putting on a show with a deck of cards in the junior locker bank.
Easley said his interest in card tricks began a few years ago through the internet.
"I started about two or three years ago. I was always looking stuff up on YouTube and then I stopped for like a year or so," Easley said.
However, Easley regained his interest on the spirit bus for the boys basketball state tournament in March.
"I got on the spirit bus and all of my friends were sitting up front but I had to sit in the back with all the upperclassmen and junior baseball players and what happened was I was sitting on the inside seat by the window back there and I needed to make some friends," Easley said. "At first I didn't say anything. I was just fiddling with [my cards] and doing some flourishes. Then [junior] Brenden Shutt told one of his friends to ask if I do magic and I've been doing magic tricks since we got back."
Since then, Easley had initially began to look up more tricks on Youtube. However, he has stopped using Youtube and has graduated on to creating his own tricks and he says, "sometimes it's all made up out of my head right then."
Easley also enjoys the response he receives from other students after his performance.
"My favorite part is their reactions," Easley said. "I just love their yelling and surprise after I do one of my tricks."