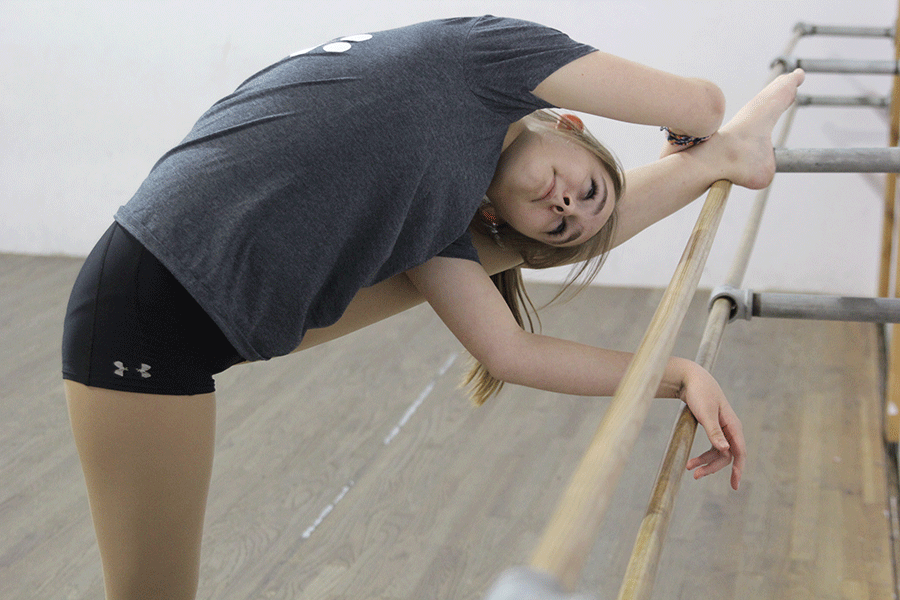 Morgan Gurwell
In between dance classes, when she's not working on homework, sophomore Ashley Ebner can be found in an empty room in the back of Academy of the Arts dance studio. With "Car Radio" by twenty one pilots blasting over the speakers, she improvises choreography, dancing in front of the mirror she helped bolt to the wall, on floors she helped install. For Ashley, the studio is her second home.
"I feel like I'm probably here more than I'm at my house. It's hard to describe because you don't exactly know what it's like not to grow up in a dance studio. You're always moving around, you've always got music playing," Ashley said. "It's hard to not be listening to music or tapping to the beat or thinking of dance moves in your head whenever music's playing."
Ever since her mom, Tonya Ebner, decided to move her travelling dance company to a permanent location in early 2002, dance has been a major component of Ashley's life. In February 2003, Ashley started dancing at the studio.
Over the past 13 years, Ashley has rehearsed every day after school for about five hours, and on Saturdays for several hours as well. She takes classes in ballet, jazz, modern, contemporary, hip-hop and tap dancing, in addition to participating in the studio's competitive team.
Tonya, who has been involved in dance since she was three years old and teaching classes since 1998, also spends a majority of her time at the studio. While running the studio and teaching a few classes here and there, Tonya has simultaneously been able to watch her daughter grow through dance.
"I definitely think not just with her, but with all kids, when they spend enough time on the stage and enough time on something they can be proud of and perform that in front of people … I think that self confidence they get from that is really valuable," Tonya said. "I really see that with her."
Being at rehearsal so often does present some challenges, however. Besides having to stay up late doing homework every night after finally getting home, Ashley also notes that "you don't really have a social life" with so little free time on hand. Still, Ashley has formed close friendships with those in her dance classes.
"You get to be really close to people. They're just kind of like a really big family that you feel like you can share anything with," Ashley said. "You feel like you can be yourself with them. At school, you feel like you kind of have to be normal and fit in with people, but then when you're here, you can just be weird and insane and people won't care."
Along with forming relationships with people her own age at the studio, Ashley also bonds with the younger dancers as a teaching assistant. Tonya says one of the reasons she enjoys being with Ashley at the studio is being able to see her grow into leadership positions and become more independent and confident through dance.
"I think that it's wonderful what dance has done for her," Tonya said. "She's learned how to work with other children and help them experience the joy of dance and … I love to see that she's enjoying it and she's passing it on."
For Ashley, the passion for dance that her mom sees in her is something that goes beyond words. Despite the chaos of a busy schedule, she says the studio, her home away from home, will always be an outlet for stress and a place to be herself — qualities that she has grown to cherish.
"It's so hard to put into words. [Dance lets you] let go of your emotions and stress [from] school," Ebner said. "You get a bad grade on a test and you come to dance and it just doesn't matter anymore because it's just you and the music and the dance floor."