English teacher Kristen Huang and her husband Tom Huang are in the process of repurposing a school bus
For future traveling, Kristen and Tom bought a bus to turn into an RV
Mill Valley News: Where did you first get the idea to repurpose a bus?
English teacher Kristen Huang: I was watching a Netflix show called "Project Happiness." It was about a German couple who came over to the states, found a bus, renovated it and traveled all over the United States. Tom, at the time, had been obsessively looking at land because he wanted to build something. We were thinking about a tiny home. I showed him this expedition happiness and he changed his direction.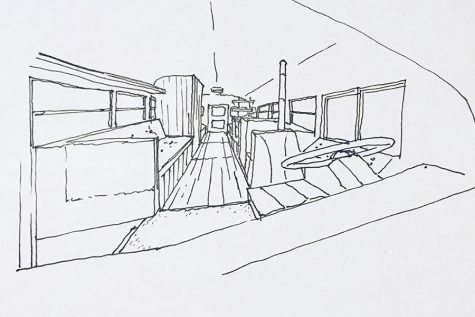 MVN: Why did you do it?
Kristen Huang's husband Tom Huang:
We're a little crazy.
KH: We thought maybe this would be a good stepping stone to a tiny house and some land. If we finish this, we could travel on it but we could also park it somewhere for a while and build if that's the direction we decided to go on. It's still a little bit less of a step than buying land and building a tiny house.
MVN: What are you doing to the bus?
TH: Pretty much everything. It didn't run for forty years. So the bus was born in 1963, and it was up in Iowa. It ran as a school bus for five or six years and then Stover Hatchery in Missouri bought it. They drove it around delivering eggs and chicken, and then, in about 1973, they parked it. They changed their business model and they were hatching baby chicks. They basically used it like an incubator. It's not like they were raising chickens in it; they were just hatching eggs in it. The engine had to be completely rebuilt, so I had to take that out. New tires, we had to take the rims off, do a little bit of brake work. There's some transmission stuff that I'm going to have to do and new exhaust lines. The whole design process for the interior and getting all that to work. It'll have the wood stove, solar panels, an air conditioning unit, a stove, a sink, a bathroom, a handheld shower, a composting toilet, a back deck, a roof rack and the bamboo ceiling.
KH: When we bought it, it already had all the seats taken out. We just had to clean it.
Do you do it all yourself or hire other people?
TH: For the engine rebuild, I hired somebody to do; I don't have that kind of expertise. But, I took the engine out and then put it back in.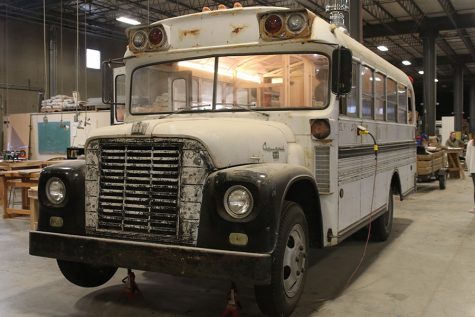 What are you planning on doing with it?
KH: Right now it goes about 45 miles an hour top speed until he does work with the transmission. We thought about probably a short trip, like to Missouri or something, just to not go too far with the test run. Then travel probably first.
What is your favorite part?
TH: Working with my hands and just watching something that we've talked about, drawn, made decisions about and spent a lot of money on come together.
What is the hardest part?
TH: Probably painting the underbody. The underbody needed to be wire brushed and then underbody coated so that it doesn't rust out. That was not fun.
(Visited 350 times, 1 visits today)