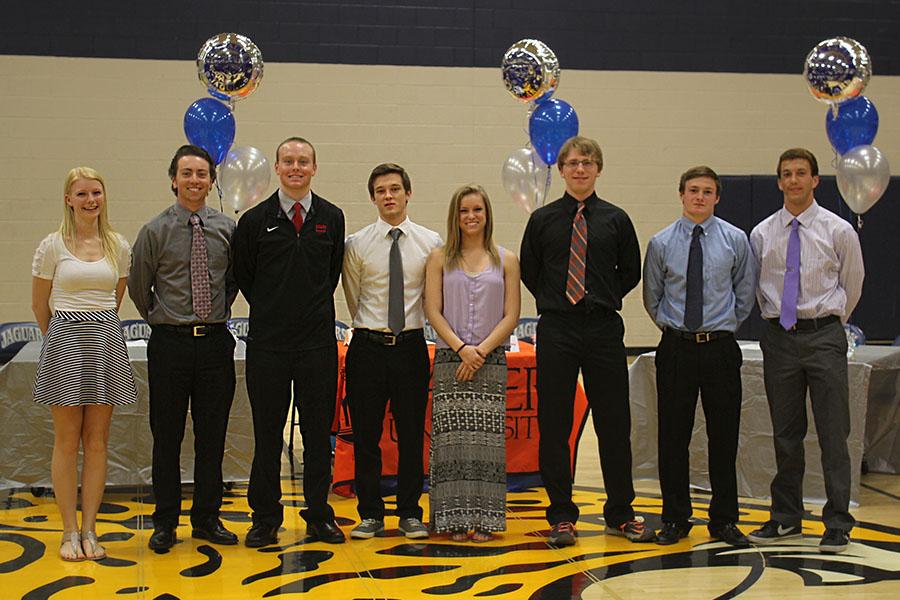 Photo by Karissa Schmidt
Eight athletes signed athletic letters of intent at a signing ceremony on Wednesday, April 30 in the auxiliary gym.
After three rounds and eight hours of tryouts, senior Brittany Rouse earned a spot as a Classy Cat on the Kansas State University dance team. Rouse enjoyed signing in front of her friends and family.
"Being able to sign makes me feel like my hard work paid off," Rouse said. "It is nice to know that I'm being recognized for something I'm so passionate about."
Rouse is looking forward to continuing this passion for dance at the collegiate level next year.
"All year I've been working to get to where I am," Rouse said. "Hearing my number called at tryouts just made me ready for college. Knowing that I get to continue dance and dance at the Bill Snyder family football stadium makes me so excited."
The athletes who signed are as follows:
Soccer:
Senior Daniel Gray, Avila University
Wrestling:
Senior Tyler Dickman, Baker University
Cheer:
Senior Shelby Rayburn, University of St. Mary
Baseball:
Senior Bryce Lievens, Cloud County Community College
Basketball:
Senior Wyatt Voorhes, Drury University
Dance:
Senior Brittany Rouse, Kansas State University
Football:
Senior Ian Calkins, Baker University
Tennis:
Senior Eric Howes, St. Anselm College