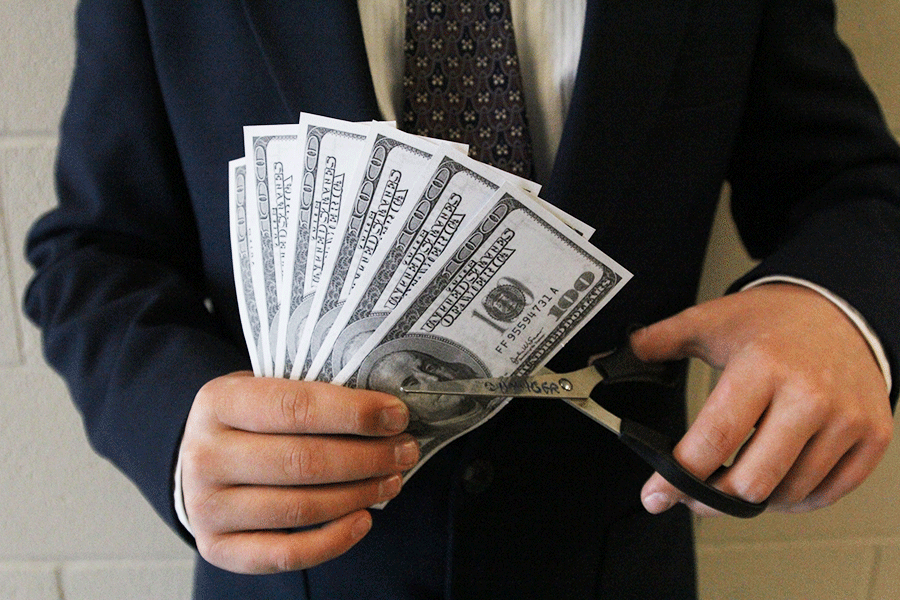 Photo illustration by Clayton Kistner
The district's total budget for the next fiscal year will be reduced by approximately $569,000 as a result of factors within the district and a change in the state's funding formula.
The original funding formula granted districts a certain amount of money per pupil, according to director of administrative services and community relations Alvie Cater. The new block-grant system gives schools a set amount of money each year, regardless of factors such as enrollment that change each year.  The district will also experience shortfalls due to changes in the way the state weighs school funds. The system will go into effect at the start of the next fiscal year, Wednesday, July 1, and will stay for at least two years.
The district will have to cut its budget because it won't have enough money to cover all costs under the block-grant system. Each school in the district will have to cut $30,000-$40,000 from its budget for the next fiscal year.
For art department chair Jodi Ellis, the changes represent a failure at the state level.
"I was a bit frustrated that Kansas was in such a mess that we would have to worry about budget cuts because our state can't keep a balanced budget," Ellis said.
However, Ellis doesn't believe the cuts will significantly impact the art department.
"I don't think it will severely affect the art department," Ellis said. "We are going to have to, throughout all the departments, cut back our district moneys by five, 10 or 15 percent, probably 15. That's not going to cause us a lot of distress because students do pay for classes. Everybody is just going to have to tighten their belts and be a little more frugal."
According to principal Tobie Waldeck, solving the school's budget problems is an ongoing process.
"Basically what we're doing right now is working with department chairs and representatives of the school to determine possible reductions for the next year," Waldeck said.
According to math department chair Amy Welzenbach, the school isn't sure exactly how much money is being cut at the moment, but this should change before the cuts take effect.
"We won't know officially exactly how much we are going to have to cut until we get closer into next year's budget and the decisions that are being made at the district level,"  Welzenbach said. "So, I'd say it will be a domino effect once they make the district-level decisions, then we'll know from building to building what exactly those final cuts will need to be.
This new funding system comes in the middle other budget shortfalls in the district due to smaller-than-expected student enrollment and other factors such as rising health care costs for the district, which Cater said could undergo "anywhere between a 15-20 percent increase."
Director of business and finance Ken Larsen is unhappy with the new block-grant funding formula.
"With no additional funds the only way we can meet increased operating costs such as utilities, insurance, busing, etc. is by reducing expenses in other areas," Larsen said via email.  "Any additional new expenses can only be supported by reducing existing expenditures.  I am not in favor of the block-grant funding because it does not allow any new funding for these increased operating costs."
According to Cater, the new funding system also provides an emergency monetary fund of $12 million for school districts with extraordinary circumstances. Every school district in Kansas has the ability to apply for this additional money if they're in need of some extra funding.
Cater doesn't believe the emergency fund will have a large impact on the district's budget in the near future.
"There are over 300 school districts in the state of Kansas that will be trying to tap into that amount," Cater said. "The bottom line is we know that we're not going to get any significant increases in funding, so we're trying to work within those parameters."
Additionally, Cater is concerned the state will be unable to provide the money required to fulfill the block-grant system.
"The state of Kansas has yet to address a budget shortfall at the state level of $700 million, some estimate close to $1 billion," Cater said. "So until they address the budget shortfall in Topeka, we don't know if they'll have enough money to fund the block-grant system they just passed."
Despite the potential budget issues, Cater is still committed to maintaining a quality level of education for all students.
"At the end of all of this, our students are still going to show up for class, we still have the burden of providing the best possible education for them, regardless of what the financial landscape is," Cater said. " We may have to be creative, but we'll accomplish that. "