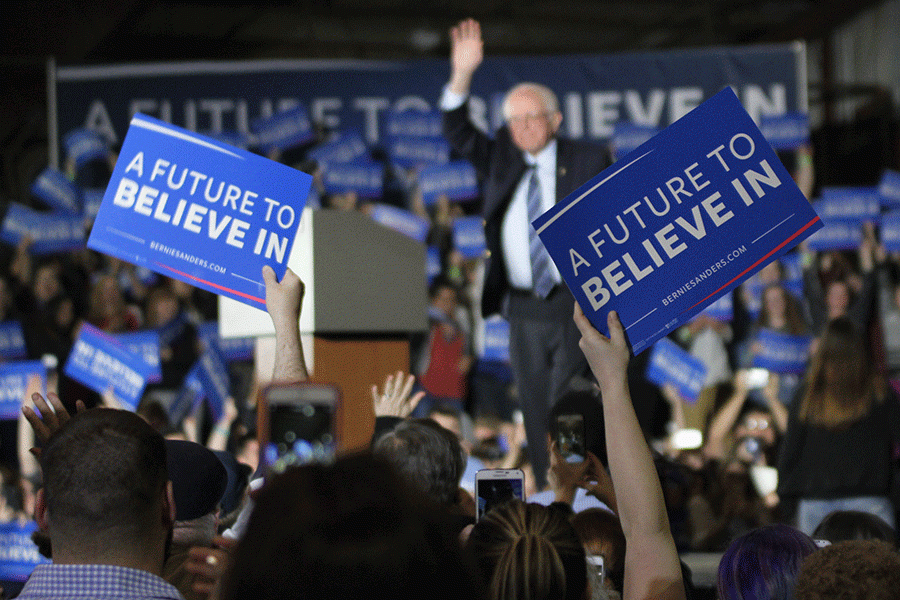 Karissa Schmidt
To junior Paige Habiger, a second chance to see Democratic presidential candidate Bernie Sanders was too good to miss. So, she went to Lawrence on Thursday, March 3, to see Sanders speak at a rally at the Douglas County Fairgrounds Community Building. Last week, Habiger attended the rally at Bartle Hall in Kansas City, Missouri, on Wednesday, Feb. 24.
"I really support Bernie and all of his ideas, and I thought it would be a great idea just to come out and support and be part of the political [process]," Habiger said.
Habiger was one of many in the crowd at the rally, where 5,000 were expected to attend. The crowd spent over an hour listening to and cheering on Sanders, a senator from Vermont who spoke to Lawrence to campaign before the caucuses on Saturday, March 5.
"I know that this is a conservative state, [but] I have a feeling that Lawrence may not be that conservative," Sanders said to the crowd.
Sanders trails Democratic presidential candidate Hillary Clinton by 10 percent in the most recent poll of Kansas Democrats, done by Fort Hays State University. However, the poll, taken Friday, Feb. 19 through Friday, Feb. 26, has 44 percent of Democrats as undecided.
Sanders' speech focused on many of his main policy proposals, including fixing the "rigged economy" by breaking up large banks and taking money out of politics, providing tuition-free public college and a single-payer healthcare system and legislating climate change prevention.
Lawrence resident Linda Prokop, who plans to caucus for Sanders, said she agreed with Sanders on most of the policies he mentioned at the rally.
"I think healthcare, national health is very important," Prokop said. "I think helping with college education and student debt is very important, taking care of veterans is very important, equalizing the division of wealth in the country is really important. So, pretty much, as Bernie says, I kind of agree."
LeRoy resident Mike Riley, who, like Habiger, previously attended the Kansas City rally, said before the rally that he was particularly interested in Sanders' positions on healthcare and criminal justice reform. Riley also plans to caucus for Sanders.
"He's for the people, he's honest, we need him," Riley said. "We need to get up to date with our laws. We have a broken criminal justice system and a broken healthcare system."
Habiger was also interested in Sanders' healthcare proposals, as well as hearing about minority groups' rights and environmental policy.
"Bernie is really big on equality for all people, and that's something I'm a really big, firm believer in," Habiger said. "And, also, with healthcare, I believe that everyone should be able to have access to it because it's very important and it's pretty much about the lives of people and the welfare of everyone. And, also, for the environment, I just believe that the Earth is a really special place and that we need to take care of it, because we're the ones living on it, and we need to take care of it in order to keep on living a good life."
Throughout the speech, Sanders mentioned challenging the status quo multiple times, keeping consistent with his promise of a "political revolution."
"We're doing something very radical," Sanders said. "We're telling the truth."
Seeing Sanders speak in person affirmed Prokop's support for him as a candidate.
"Of all the candidates for president, I think that Bernie Sanders is really the only candidate that says anything that makes any sense at all," Prokop said. "A lot of what he said are things that I've heard before, but this is the first time that I've ever seen him in person, and it was wonderful."
Habiger plans to caucus for Sanders in anticipation of the first presidential election where she will be able to vote. She said supporting Sanders by caucusing is a matter of political involvement more than anything else.
"[Undecided voters] need to go out and support Bernie if they really believe in some of the things that he's saying, because it's so important to be involved politically," Habiger said. "It's something that affects everyone, and so they should go out and support that because it's going to affect them someday."
[View the story "Democratic presidential candidate Bernie Sanders makes second area visit" on Storify]