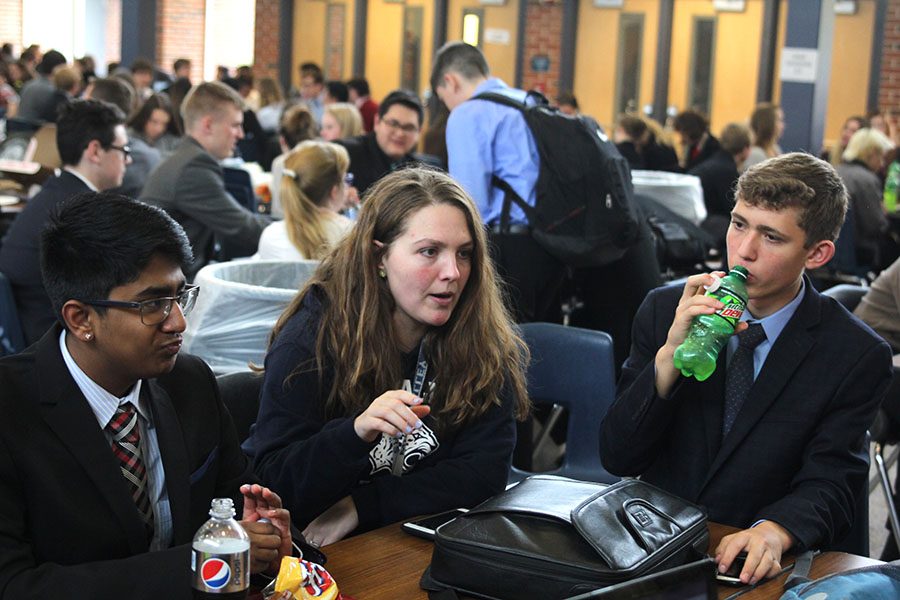 Carter Lawson
The debate team competed in the Blue Valley Classic at Blue Valley on Saturday, Nov. 4. The partnership of sophomore Srikar Turaga and freshman Manoj Turaga went 3-2 for the day, and the partnership of freshman Anna Owsley and sophomore Joey Gillette went 4-1, earning a medal and almost qualifying for finals.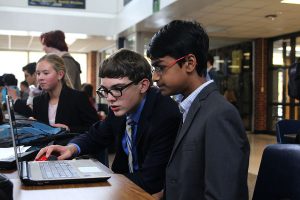 Also on Saturday, Nov. 4, a separate team of novice debaters competed in the novice division at the Olathe Northwest tournament. Sophomore Cameron Schwegman and senior Justin Schierbaum placed in eighth, sophomores Noah Hookstra and Nathan Greenfield placed in fifth, and junior Madelyn Lehn and senior Michael Sandri placed in fourth.
The team that competed at Blue Valley consisted of mainly first-year debaters that participated in the open division, a much higher level than novice, for the first time.
Owsley believed the open division was much more difficult.
"[The competition] was a lot more stressful," Owsley said. "It was challenging going up against cases I'd never heard of before."
Srikar agrees with Owsley that, because the team had little to no exposure to multiple of the presented cases regarding the current educational system beforehand, arguing for or against them was challenging.
"This tournament was a little different and a little weird," Srikar said. "One case was about journalism, which we haven't even talked about, so it was a wider variety. Other tournaments have simple, generic cases that we know about."
Along with the harder competition, a lack of experience debating with partner Gillette was an added challenge for Owsley.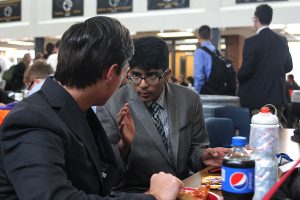 "[The partnership with Gillette] was interesting because I didn't know him until a day before," Owsley said. "We never had practiced before and it was the first time we'd ever talked."
Oppositely, Srikar and his partner were very familiar with each other, as he was paired up with his brother, Manoj. According to Srikar, the two are able to work cooperatively.
"Usually, we always argue; we're kind of like opposites," Srikar said. "When he wants this, I want that. But when we're partners in debate, we leave our relations outside."
Srikar also believes that the brothers were able to rise to the occasion of debating together.
"It was a bit awkward at first," Srikar said. "But, as we've progressed, we've discovered the mental connection between us."
Because of the obstacles, Srikar said he was "shocked" by the success he and Manoj found at the tournament.
"[The tournament] was really good," Srikar said. "I had a bad season starting out, and … I'm really surprised and really excited."
Despite the difficulties of the day, Owsley was also able to enjoy herself competing.
"I like being able to make arguments with other people in a structured environment," Owsley said. "I like learning about things that I never would have thought about before."
The novice and varsity teams will be back in action on Friday, Nov. 17 and Saturday, Nov. 18 at Shawnee Mission West and Shawnee Mission East.