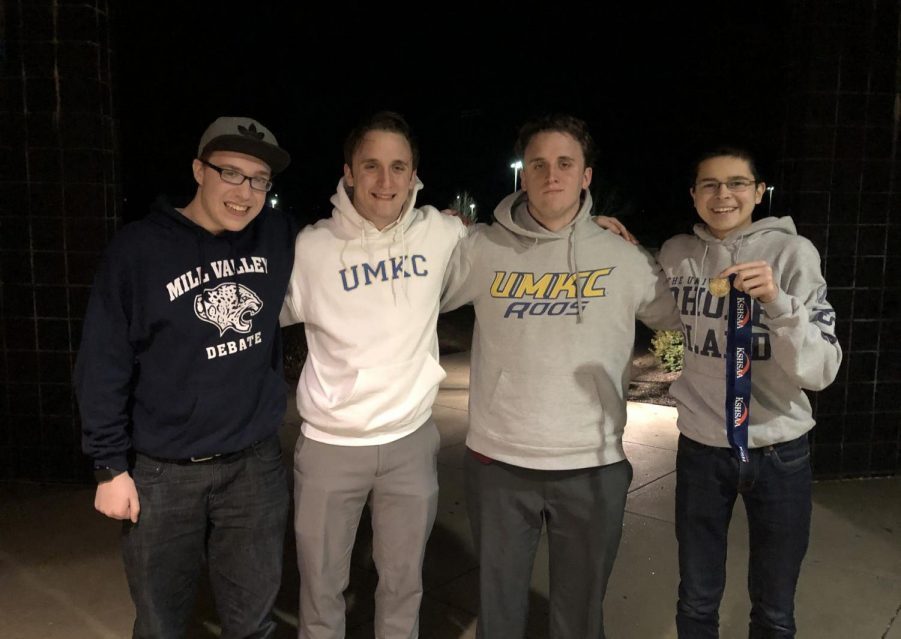 Anna Owsley
Continuing the team's unprecedented success throughout both this season and the past few years, debate broke all four of their competing teams into the bracket elimination rounds for the first time in school history at their state competition Friday, Jan. 17 and Saturday, Jan. 18 at Hutchinson high school. This competition also saw the first Mill Valley teams — Mill Valley SW, composed of juniors Adam White and Tanner Smith, and Mill Valley BB, composed of seniors Thomas and Travis Babcock — to ever win an elimination round at state. 
Debate coach Sohail Jouya felt the team's performance showcased the depth of their talent across the board and demonstrated the program's growth. 
"We were the deepest team there in terms of breaking all of our teams to elimination rounds. We also had two teams win elimination rounds, so two teams in the top 16 teams," Jouya said. "Only three other schools did that. So for a program that's incredibly young with very young debaters, I was pretty pleased with the result."
Upon entering elimination rounds, sophomores Grace Emerson and Taylor Doyle were the No. 32 seed with a 3-3 preliminary record, and sophomores Aiden Burke and Noah Reed were the No. 27 seed with a 4-2 preliminary record. Both sophomore teams fell in the first elimination round.
The upperclassmen carried the team's groundbreaking success through to octofinals, being the first teams to win elimination rounds at state in school history. Juniors Adam White and Tanner Smith were the No. 9 seed with a 4-2 preliminary record, and seniors Thomas and Travis Babcock were the No. 7 seed with a 5-1 preliminary record, and both teams fell in the octofinal round.
White was pleased with their record-breaking performance after all the hard work they put into their season.
"[We had] just been continuing to prep for all the teams that we've been hitting all year…" White said. "State is a very interesting tournament, but I thought that the team overall did really well. We had pretty consistent results across the board, so I'm pretty happy." 
According to Jouya, one of the team's difficulties was the type of rounds they were having. Because the teams had been spending much time preparing for and debating on the national circuit, which features more technical, speed and research-orientated debate, they were less prepared for the slower, less technical debate style at state.
Looking ahead to next year, White hopes to improve his skills and adapt to state competition.
"I need to work more on flexibility. Specifically state, as a tournament that's a bit interesting, it requires a lot of flexibility," White said. "And I think in order to win it next year, I specifically need to work on that."
The team's performance at this tournament reflects a recent trend of improvement in the school's debate program. Previous debate coach Annie Goodson brought the team to their first national circuit tournaments, setting the stage for the team's newfound success. The hiring of Jouya combined with the team's commitment to improvement continued the team's path to multiple school record-breaking accomplishments this season, such as: first teams to receive first round bids to the Debate Coaches Invitational and first team to receive an at large bid, first teams to reach elimination rounds at a Tournament of Champions bid tournament – which happened four times, and the first novice team to win a national tournament – which happened three times.
While Jouya sees the value in representing the school at state, the team's top priority will be competing on the national circuit.
"Our attempt is to qualify to a number of national championships and really make a name for ourselves in the national circuit," Jouya said. "And if we are capable of doing that, then state will become a lot easier for us."
Jouya was especially proud of Travis and Thomas, who will go on to debate for the University of Missouri Kansas City and likely continue assisting the team as assistant coaches next year. 
"I'm incredibly proud of our seniors… The Babcock twins deserve a lot of attention," Jouya said. "I think that a lot of folks in the college debate community will regret overlooking them in a few years when they make a huge splash in college, and I'm incredibly excited to see them do that."