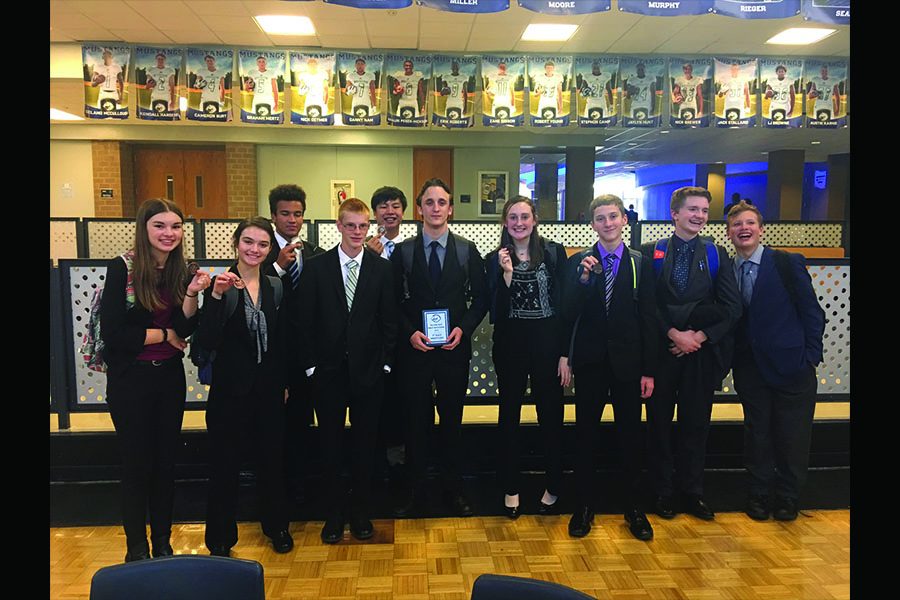 Submitted by Ann Goodson
The debate team placed third in sweepstake at a two-day tournament at Blue Valley North that started on Friday, Oct. 12 and went through Saturday, Oct. 13. During this tournament, no teams competed in the varsity division. Open division debaters competed both days, while novice only competed on Saturday.
In the novice division, the partnership of freshmen Ashleigh Krist and Noah Webber went undefeated, placing the partners in fourth for the novice division. In the open division, the partnership of sophomore John Lehan and junior Thomas Babcock went 4-1 in preliminaries, but dropping their octofinal round.
According to Babcock, the addition of the novice debaters is promising for the team.
"We had some killer novices who placed pretty high," Babcock said. "We have a real shot of winning state if we continue along this line."
Going into the each round, Krist found debating daunting at first, but she did not let that affect her performance.
"It was a little nerve-racking in the beginning but we warmed up to it and it got easier as we went on," Krist said.
Seeing where the team stands now compared to past seasons, Babcock sees a bright path ahead of the team this year.
"I think the entire team has improved, especially considering where we were two years ago," Babcock said. "We definitely have a higher chance of winning state and winning national tournaments this year."
Babcock hopes to use his experience from this tournament to help him in future meets.
"For me and [my brother] Travis, [our goal] is specifically to win Two Speaker State and do well at Iowa Caucus and as well as other local tournaments," Babcock said.
The team will be traveling to Iowa for the Iowa Caucus held on Friday, Oct. 19 to Saturday, Oct. 20.