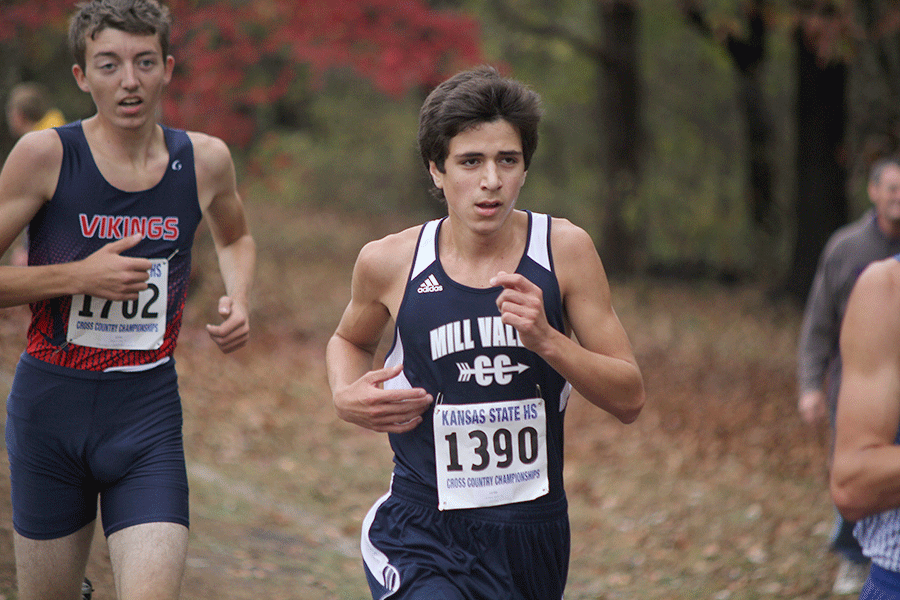 Morgan Nelson
The boys cross country team placed fourth overall while the girls team had four individual runners competing in the 5A state meet held at Rim Rock Farm on Saturday, Oct. 31, which was the last meet of the season.
The boys finished in fourth place, falling  only nine points short of third. Senior Derek meeks placed 18th with a time of 16:52.40 and junior Garret Fields placed 20th with a time of 16:55.20. They both made first team all-state, in the first time in school history where two runners from the boys team medaled at the state meet. Senior Ellie Wilson placed 18th in the girls race with a time of 20:11.80 and also made first team all-state.
Coach Mark Chipman thought the team put in a lot of hard work to make it to state this year.
"[The team] has been gradually preparing since June for state," Chipman said. "We knew we had a tough regional."
The course at Rim Rock Farm requires both boys and girls to run a 5K trail that consists of multiple hills and bridges. Chipman was happy with both teams' performances on the course even though they did  not reach their intended goals.
"I am very pleased. I thought we handled the hills well," Chipman said. "We were hoping to get third place, but that didn't happen."
Wilson knew that the race posed multiple challenges for the team, especially with girls now running 5 kilometers instead of four under new state cross country rules.
"Running a 5K is a big step up since [the girls] are used to running 4Ks," Wilson said.
Wilson felt this meet was very important to her because of her placement.
"I was focusing on the fact that it was my last high school meet," Wilson said. "Medalling at state was my goal for the season. I put in a lot of hard work and it paid off."
According to Fields, the team worked together in order to finish the race strong.
"We ran as a pack and it really pushed us," Fields said. "We matured as a team."
The cross country team ended its season feeling confident, according to Chipman.
"The season went really well," Chipman said. "We had success early and tried to carry it through the rest of the season."