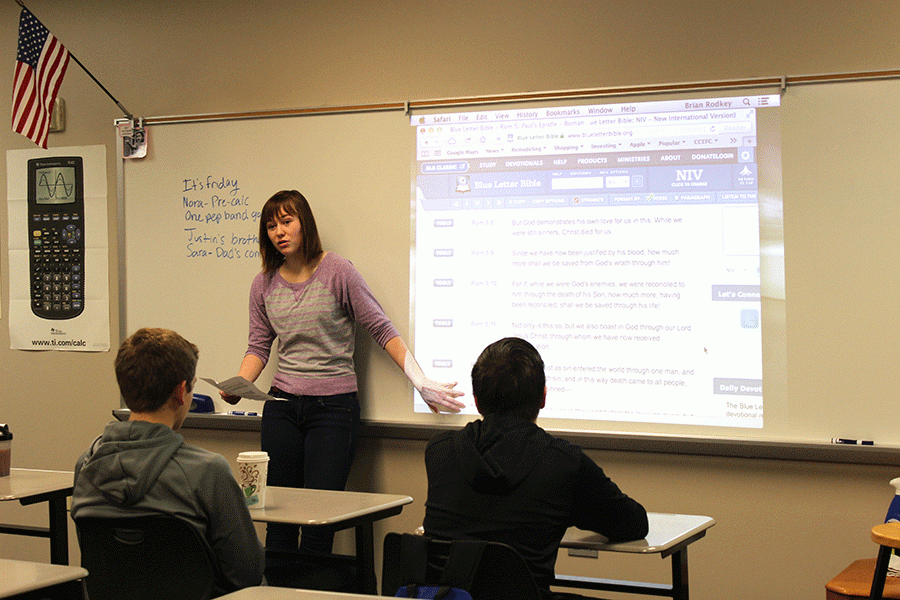 Jillian Leiby
Over the next several weeks, Club 121 is trying a new series and meeting structure where members will be reading the book of Romans from the Bible.
During the eight-week series, the club is dividing the 16 chapter-long book so that two chapters are covered each week, with discussions focused on key verses, themes and how the scripture applies to everyday life. The group completed its third week of the series on Friday, Jan. 22.
The idea came about when club officers began looking for a series that would bring a bit more uniform structure to meetings, but still allow for deep, thought-provoking discussions. Sophomore treasurer Jordan Robinson said this series does just that.
"What we had done this past semester, we just spoke on random things about whatever was going on. It was kind of discombobulated with a just a bunch of different ideas," Robinson said. "So, we wanted to do it where you could go through the entire quarter and it would be cohesive."
According to Robinson, the officers chose the book of Romans as their focus because it relates easily to today's youth. Freshman Grant Loew, who has been following along with the readings at meetings, also thinks the book was a good choice and likes the idea of the series.
"It's got some good life [lessons] and inspirational quotes in it," Loew said. "If you just encourage someone to go home and read it, most people probably won't, but when you do it as a group, they'll listen and they'll understand and learn the knowledge of God."
As a club officer, Robinson believes the series has been successful so far.
"Something good about it is that each week, we know what's going to be covered, so club members can read the specific chapters we're going to be focusing on," Robinson said. "And then, at the meeting, we have more context and historical significance and application."
For Loew, the series has drawn him closer to his faith and provided him with a deeper understanding of the scripture.
"They got me reading the Bible more often. Before this, I would just occasionally go [to meetings] with my sister [sophomore Cameron Loew] last year, when I was in 8th grade, and I was just like, 'Oh, this is just random talk about God,'" Loew said. "But I've been going to church more often, I've been reading the Bible more … so I think it's helped me a lot."
Club 121 meets weekly on Friday mornings at 7 a.m. in sponsor Brian Rodkey's room. The current series on Romans will continue through the end of third quarter.