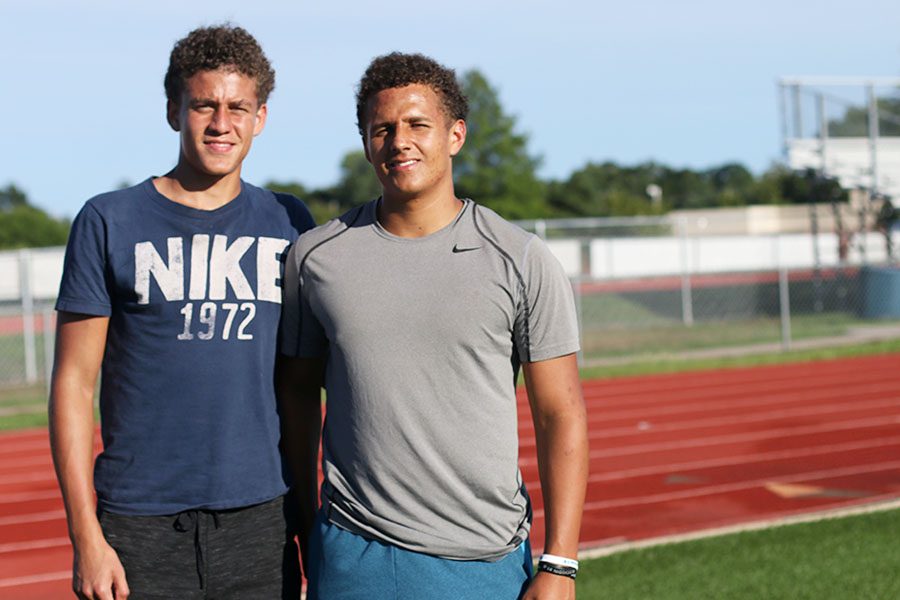 Annie Myers
Although senior Jordan Preston and junior Marcus Preston have only been students at Mill Valley since second semester of last year, they have already made a big impact on the football program. Jordan serves as the quarterback while Marcus is a wide receiver for the team.
Since the brothers' transfer from Free State to Mill Valley for the football program, the team has helped them adjust to the policies and traditions Mill Valley observes. Both boys have developed strong friendships with their teammates.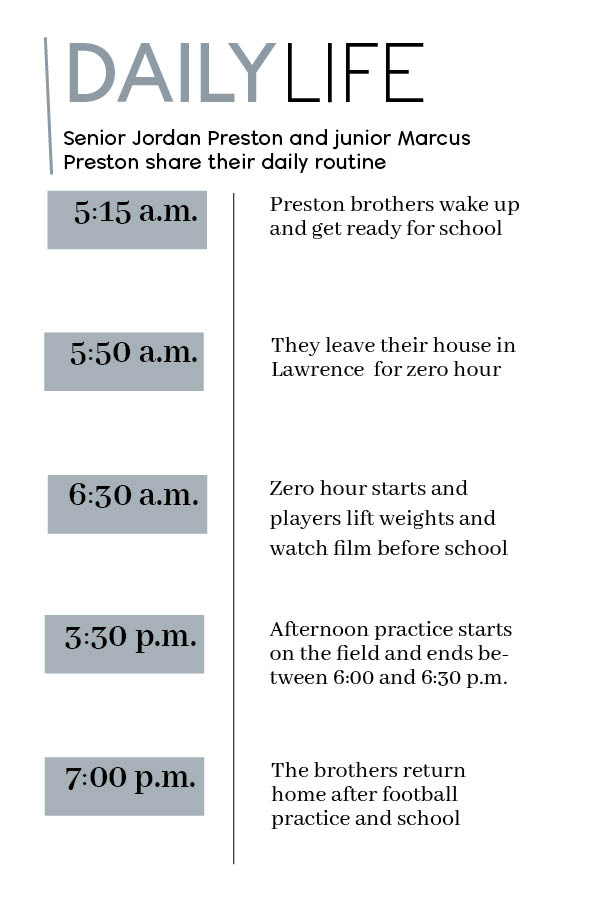 By Addie Kemp and Hunter Ristau

After only being on the team a semester, Jordan was one of only eight people voted by the players onto the leadership council, consisting of players who speak at team meetings before games and help set team standards.
According to Jordan, Mill Valley is different from FSHS because "there's more unity. There are more off-field [activities] that they do here to make us closer as a team."
Head football coach Joel Applebee has witnessed the Preston boys' good attitude and work ethic assist in creating their smoother transition into the school's football environment.
"They have two different personalities but they're both very good kids," Applebee said. "They both work really hard and that was probably the best part about their adjustment."
Marcus and Jordan had each other to help ease them into their transition.
"We've got that connection," Marcus said. "We do a lot of throwing and working out on our own too, so we've built that since we were little."
Their transfer to the school was influenced by physical education teacher Christine Preston, who is also their mother. Transferring to Mill Valley has given both boys the opportunity to spend more time with their mom than when they attended their previous school.
"We get to see her here every day and go to her room whenever we want," Jordan said. "It's also helpful that she knows all the teachers here."
So far the Preston boys' overall experience at the school has been a positive improvement from FSHS.
"[The school] has been good and very welcoming," Marcus said. "The football team made it seem like a family. They brought us in and helped us out. It was not a hard transition."
Although the Preston boys agree that their transfer to the school was easy due to their mother's presence and the friendships they developed from the football team, there were some aspects they struggled with.
"For school, it was hard figuring out the teachers and adjusting to the different ways they teach at first," Marcus said.
Despite the boys' early troubles, they have already proven their dedication to the school. They wake up as early as 5:15 a.m. to drive from Lawrence to Shawnee every day.
According to Marcus, "just knowing that we have a goal in mind and that we can reach that goal by doing everything we can to work hard" makes it all worth the drive.