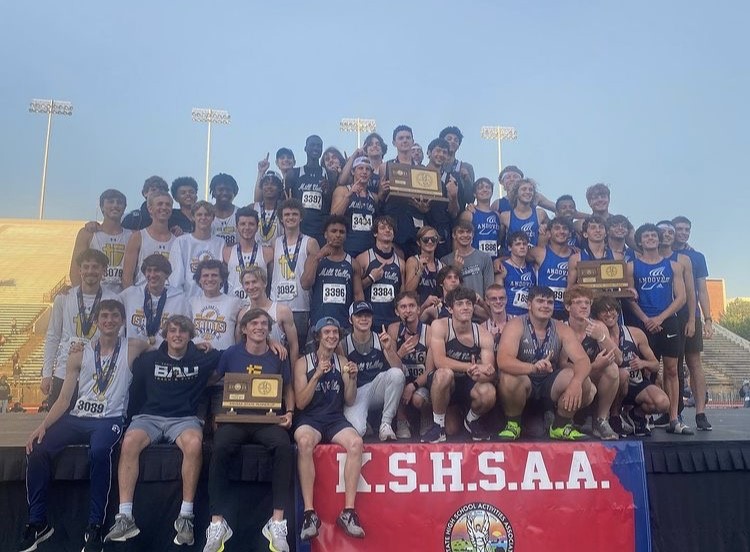 Sports in Kansas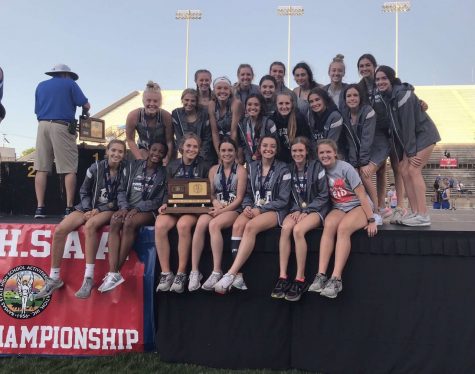 To wrap up a dominant and record breaking season, the track teams returned to Cessna Stadium at Wichita State University Thursday, May 27 to compete in the 5A state track meet. The girls team finished in third place with a total of 13 medals while the boys team brought home their first ever state championship title for track, garnering a total of 15 medals. The teams not only took home two trophies but broke several school records as well. Among those records broken was senior Lily Fleetwood who made Kansas state history in setting a new division state record of 13-0 feet, just an inch shy of breaking the school-wide record of 13-1 feet.
In the one week leading up to state, head coach Chris McAfee discussed how he helped prepare the teams for the long awaited meet.  
"I tried to stay out of their way, and I actually mean that. We just tried to keep things as normal as we possibly could," McAfee said. "Try not to overthink things too much and just have fun. You have to do your best and compete." 
Senior Garrett Beashore explained where he was upon receiving the news of the boys state championship victory, outlining how elated he was to receive the news of the boys first place victory.
"I was hanging out at the Javelin area when my coach messaged me that we won," Beashore said. "Kyle Mayfield, Dutch Platt and I were jumping in excitement. We then sprinted over to the team to join them."
Getting to bring home two new state titles, McAfee expressed his thoughts about the team's performance at the state meet.
"I don't think I can even put that into words. The girls were predicted to place fifth and the guys were predicted to be second…" McAfee said. "I feel like we had a lot of people who continued to be what they were all year long and that's what it takes to do well at a state championship meet."
The state meet also brought feelings of nerves for all athletes and coaches in attendance. Beashore described the feelings he had when the teams arrived at Cessna Stadium. 
"Competing at state was nerve racking, there were so many people in the stadium and it felt a little overwhelming…it was a lot," Beashore said. "It was also an amazing experience to hangout with my teammates and coaches. To see everyone compete was incredible. It was an experience I'll remember for a long time." 
In addition to winning state titles, the teams also broke many school records. Junior Reese Johnston recounted the moment when the girls broke the school 4×400 meter record. 
"The best moment was probably breaking the school 4×400 meter record," Johnston said. "It was such an amazing feeling to do such a difficult thing alongside my friends."
Among the girls 4×400 meter relay team, school records were also broken by junior Quincy Hubert in the 300 meter hurdles, sophomore Nen Matlock in the 400 meter dash and junior Adrian Dimond in the triple jump and long jump.
After a triumphant season, Johnston explained the feelings and emotions that came with succeeding as a team as a way to wrap up the season.
"The moments that stand out the most are gathering as a team on the field after a big win," Johnston said."It brings everyone together no matter how well you personally did."