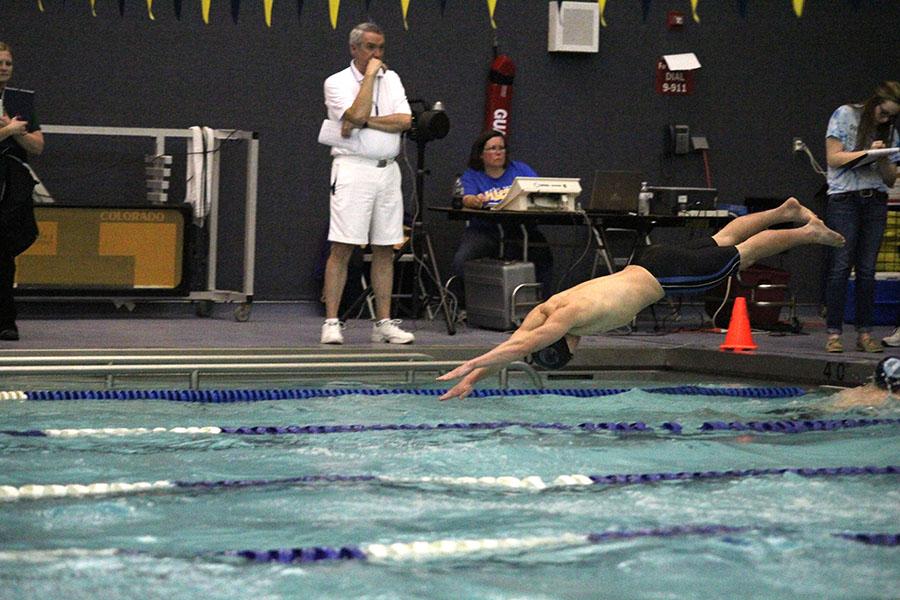 Photo by Cassidy Doran
The boys swim team took third at the meet hosted by Olathe South on Tuesday, Jan. 21. The 200 medley relay team of junior Callahan Eckardt, freshman Garrison Fangman, junior Nick Stack and freshman Chandler Folk qualified for state.
"One of my favorite parts of the meet was qualifying our [200] medley relay for state because we have been so close, within a second of qualifying, at every meet," Eckardt said.
Along with swimming, the meet also consisted of diving where freshman Mitch Willoughby competed and placed second. According to Willoughby, the meet had an easy-going feeling.
"There weren't as many people there," Willoughby said. "The last time I went to a meet there were six teams and a smaller pool, so this time it was more laid back with not as much going on."
Even though the meet was smaller, team members still continued to improve their times.
"As a team we did very well," Eckardt said. "We continued to drop time and we were close to first and second place, it was a matter of 40 points between each team."