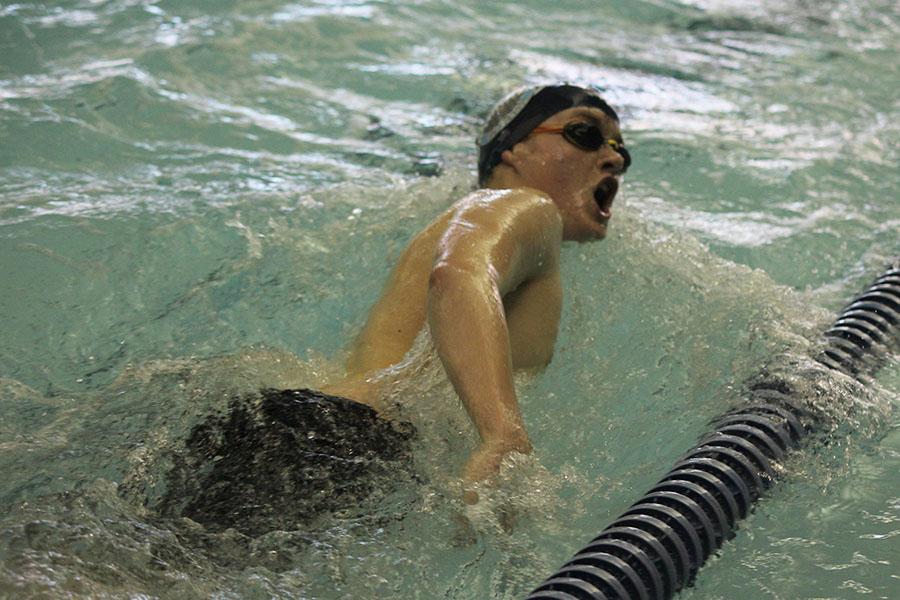 Photo by Ashley Kitchen
The boys swim team won its first Kaw Valley League Championship at Turner High School on Tuesday, Feb. 11.
Members of the team placed first in four events, and the 400 freestyle relay team finished in second place, short of first by only 0.2 seconds. The team also recorded 57 new best times.
Junior Callahan Eckardt, who placed first in three events, said that winning league was exciting for the team.
"It was very crazy and we were running around yelling; the bus ride home was really loud," Eckardt said. "It was awesome that we won because Turner and Lansing are both good teams, and Turner beat us twice and to beat them was awesome in itself. Plus our relays performed exceptionally well last night, we upset the teams for the relay seated in front of us. The guys all swam well; I couldn't ask for a better league championship relay."
Freshman Garrison Fangman placed first in both the 100 butterfly and the 200 free relay, and said that placing first in league is a big accomplishment for the team.
"The team as a whole has swam really well, we placed within the top five in most of our races," Fangman said. "[Winning] is a big deal, especially since the Mill Valley swim team's only been around for two years."
Head coach Alissa Ruffin said that the swim team overcame the challenges of being a relatively new team to win this competition.
"Our motto throughout the season has unofficially been this: 'hard work beats talent when talent doesn't work hard,'" Ruffin said via email. "As a new team facing well-established teams, we've emphasized the importance of working hard despite the disadvantages we have (traveling to practice, lack of a home pool, snow days, etc.).  These swimmers set goals for themselves, worked to reach those goals, and most far surpassed what they thought they were capable of."
Eckardt said that the team's drive has helped them in this season.
"The team has worked so hard this year and has been incredibly focused at practice, reaching not just individual goals but team goals," Eckardt said.
Eckardt said that the team has been very successful despite being a young team.
"It was a fantastic second season; we have nowhere to go but up from where we are," Eckardt said. "The level at which we competed at, it's really unexpected. For such a young team or program to be able to go out and compete against larger and seasoned programs is an accomplishment in itself. Also the size of the team being so big is ridiculous for a second year program. We were one of the biggest teams out there."
Any individual or relay team that placed eighth or higher at league earned points for the team's overall score, with a maximum of three individuals and two relays per team. The point-winning finishes were:
200 Medley Relay: Fangman, junior Nick Stack and sophomores Chase Midyett and Will Dervin placed third
200 Medley Relay: senior Brendan Frieders, junior Ben Hadden and sophomores Jeremiah Kemper and Spencer Clayborn placed fourth
200 Free: Eckardt placed first, senior Wyatt Brecunier placed fourth and sophomore Richard Wooten placed fifth
200 IM: Kemper placed 3rd and Frieders placed fourth
50 Free: Hadden placed fourth and Fangman placed eighth
100 Fly: Fangman placed first and Clayborn placed eighth
100 Free: Eckardt placed first, Brecunier placed fourth and Stack placed fifth
500 Free: Freshman Ian Ahaus placed fifth
200 Free Relay: Fangman, Stack, Brecunier and Eckardt placed 1st
200 Free Relay: Frieders, Wooten, Hadden and Midyett placed 3rd
100 Back: Dervin placed fifth, Kemper placed sixth and sophomore Brennan Teasley placed seventh
100 Breast: Stack placed second, Frieders placed fourth and sophomore Logan Schmidt placed seventh
400 Free Relay: Wooten, Brecunier, Dervin and Clayborn placed second, 0.2 seconds away from first
400 Free Relay: Hadden, Clayborn, Wooten and sophomore Adam Grey placed seventh