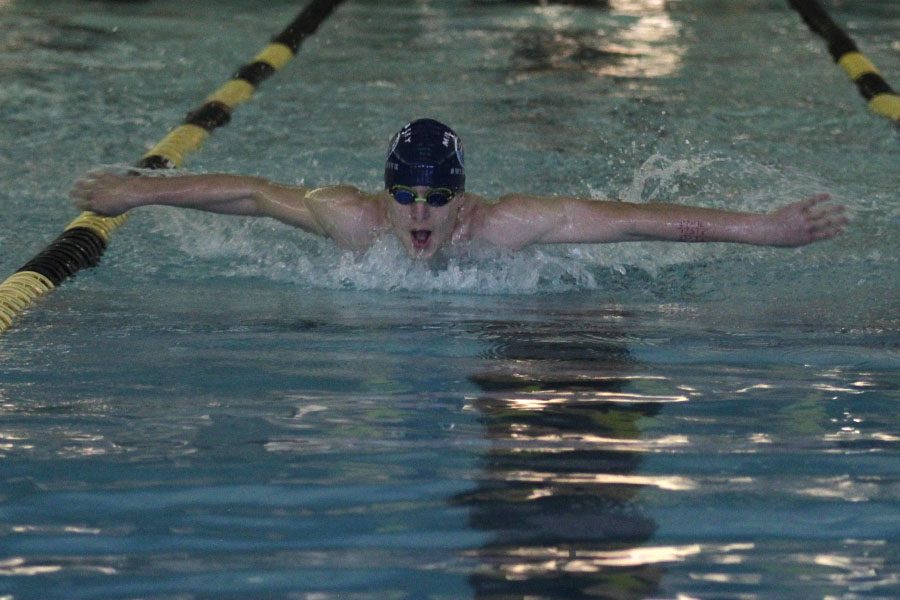 Sarah Morgan
The boy swim team finished third at the Turner Invite on Monday, Jan. 9 after a successful meet on Friday, Jan. 6 at Blue Valley where the team qualified for state. The 400 yard free relay team — senior Garrison Fangman, junior Carter Lawson, sophomore Chris Sprenger and freshman Colby Beggs — qualified for state with a time of 3:44.43 and half of the team dropped in time individually.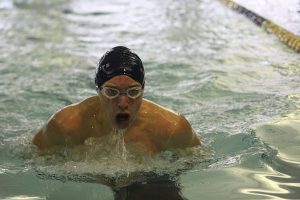 With back-to-back meets, Fangman credited the team's performance to the lack of practice over the weekend.
"I think the whole team was a little rusty since it was a Monday meet and we haven't had practice for two days, but we did the best with what we had," Fangman said.
On the other hand, Beggs said the two-day period gave him a rest to mentally and physically prepare for the meet.
"The weekend gives you time to recover, but having [meets] on Friday and Monday can be hard if you have the tough events on Friday like the [Individual Medley]," Beggs said. "I had different [events] on Friday, so I had time to recover and do this meet at my full potential."
With a team primarily comprised of underclassmen, junior Noah Kemper attributed a different team dynamic to the loss of the senior's dominating presence.
In a different atmosphere, Fangman has taken on a greater leadership role within the team to help guide the underclassman through the season.
"Last year, we had a whole bunch of seniors so it's really just a new dynamic with a lot more freshmen and new people from all the grades," Kemper said.
"We got a lot of new freshmen this year; it's kind of a challenge getting to work with them. They're not like the seniors that I knew who I swam with for three years," Fangman said. "You have to show them the ropes, take them under your wing and teach them how to swim fast and how to swim competitively."
With the season half over, Kemper said the team still has goals for the rest of the year.
"All lot of us had a really good first meet," Kemper said, "So [our focus is to] just keep getting better."
The team will be traveling to Shawnee Mission Northwest for its next meet on Tuesday, Jan. 17.