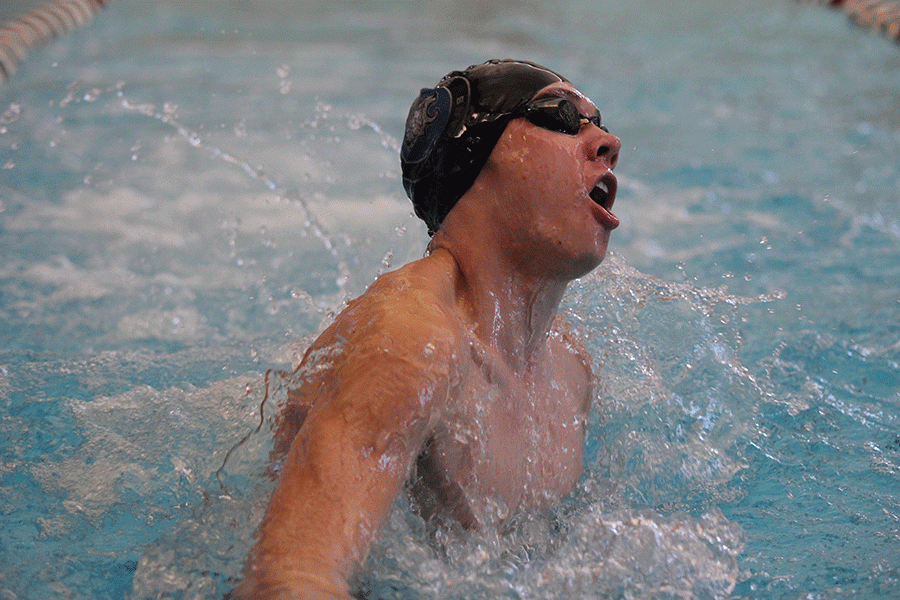 Britton Nelson
The boys swim team lost to Blue Valley Southwest in a dual on Tuesday, Jan 26.
Though the team lost, senior Logan Schmidt received a state consideration time of 1:14.03 for the 100-yard breaststroke..
"[The time] sort of came out of nowhere," Schmidt said. "I dropped 2 ½ seconds in an event that I have been working on for six meets to drop time in. It feels pretty good."
After competing against Blue Valley Southwest three days ago, Schmidt was expecting tough competition.
"We knew they were good," Schmidt said. "This was mainly just pushing ourselves up against some good competition. It drives us to get our best times."
In the diving competition, junior Mitch Willoughby also placed first with a score of 218.10.
"I won by 50 points," Willoughby said. "My inward 1 ½ was my best dive. I have been doing that one the longest and I feel comfortable doing it."
Despite the fact that the team did not come out on top, its morale stayed high.
"[The] meet went pretty well," senior Brenden Shutt said. "There was a lot of effort and practice results pay off. I'm always trying to give it to the team; we [have to] get those points on the board and to get a W."
The team's next meet is on Thursday, Jan. 28, and Shutt said he is ready to improve.
"We have to stick to our regular schedule," Shutt said. "Just keep practicing and we build upon this."