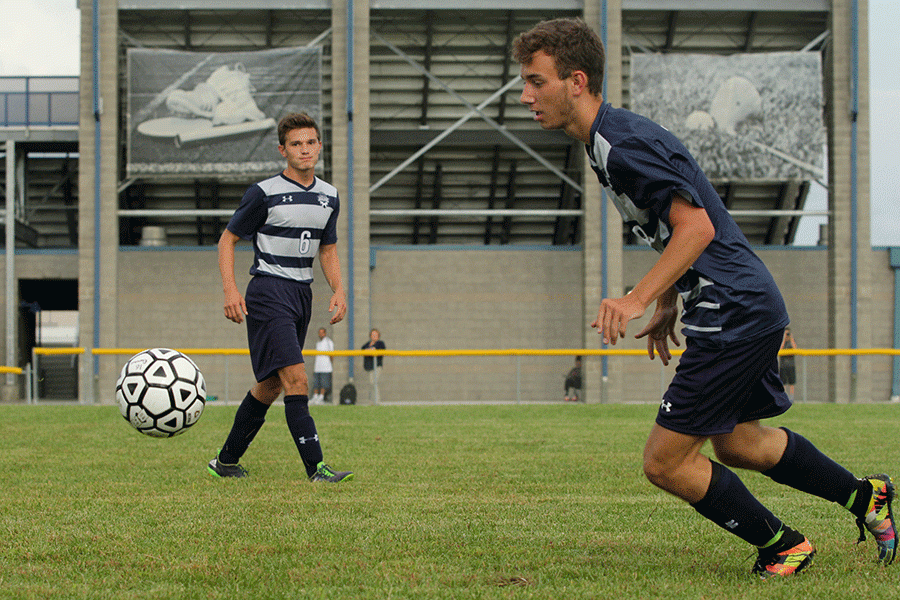 Madison Ferguson
The boys soccer team won against Gardner Edgerton with a final score of 3-2 on Friday, Aug. 26.
In the first half, the boys took ten shots but only scored one by junior Brent Stevenson with 15 minutes left in the first half. Then, Gardner came back with a goal. The score at the end of the half was 1-1.
In the second half, the boys took seven shots and senior Adam Grube scored. Then Gardner scored one goal tying the game 2-2.
"It was a rough start but we worked it out as we were going. We knew coming into the [East Kansas League] we would have to move the ball faster," head coach Arlan Vomhof said.
With 13 minutes left in the game, senior Jansen McCabe scored the game-winning goal. Sophomore Jake Ashford took two shots in the first half.  "We played our best at the end of the second half," Ashford said.
Grube thought this was a strong start to the season.
"[I have a] good [feeling] about the win because Gardner is always a hard and physical team. [I have] good hopes for rest of the season," Grube said.
The team will play next at Shawnee Mission North on Tuesday, Aug. 30.