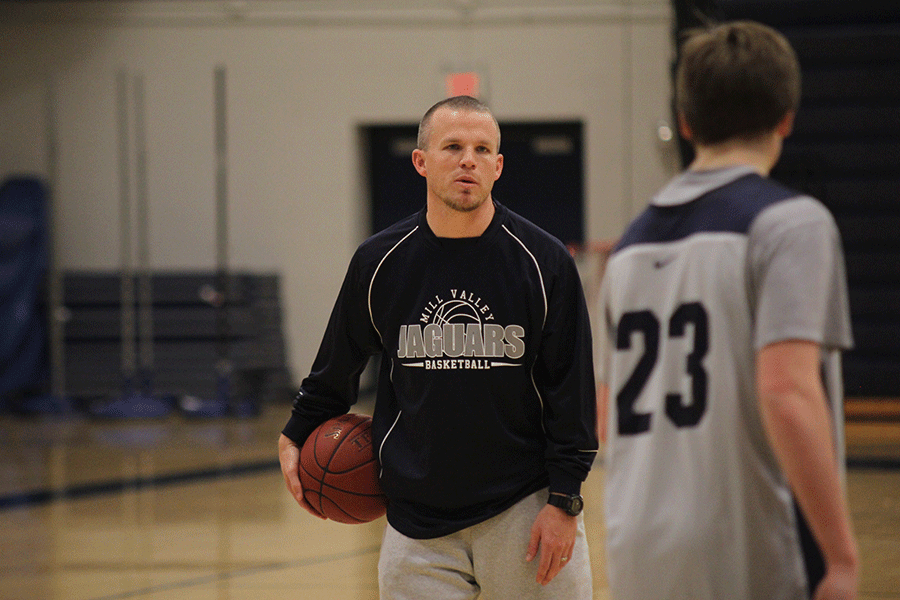 Photo by Lindsay Roush
The boys basketball team will experience its first change in the head coaching position in school history. The introduction of head coach Mike Bennett has been a surprise to players nervous about the situation.
Playing for varsity for his third year in a row, junior Clayton Holmberg has found positive change in the coaching position and for the prospective season.
"We have potential, we have gotten a new outlook and rhythm with [Bennett]," Holmberg said.
Starting as a graduate assistant in college at Missouri Western University, then acquiring the head coaching job in 2008 at Hallsville High School in Missouri, Bennett's experience with basketball programs proves promising for this season by the way he conducts his practices and attitude.
"We work on the aspects of being disciplined physically and mentally," Bennett said. "I hope our players see every game as a challenge and deal with losses in the correct manner, same with wins."
Beginning his season with the team at the start of the summer, Bennett does not have a lot of competitive experience with the boys. As of Thursday, Dec. 4, the team has only had 16 practices this season with Bennett's new coaching style in drills and strategy.
"There has been gradual improvements since day one," Bennett said. "We condition, have offensive and defensive work, and get up and down with transition: the demands of basketball"
Holmberg finds excitement in the new season with Bennett, and says the team will be ready "when the time comes."
With a regular season schedule ending on Friday, Feb. 27, the team's season will have consistent obstacles every week to endure games against potentially tough teams, yet Bennet is determined to stay ready and challenged.
"There are great kids here, yet we have to be hard workers to have success," Bennett said. "We can't be satisfied with a just a win."
The boys will play their first game at Gardner Edgerton on Tuesday, Dec. 9 at 7 p.m.