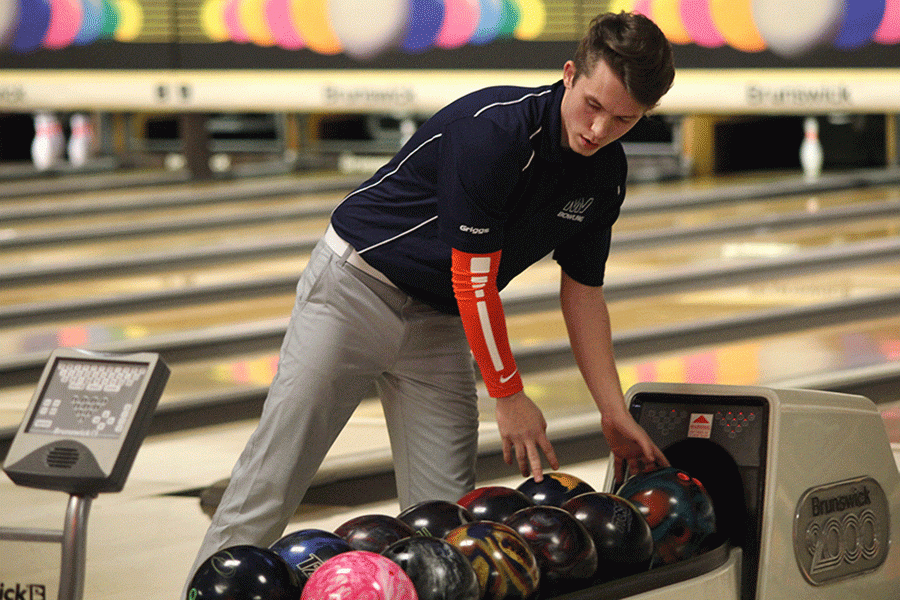 Justin Curto
The bowling team's reputation as state contenders has been the result of hard work from both students and coaches since its conception in the 2011-12 school year.
The biggest change seen by head coach Rick Pollard has been the increasing popularity of the program — and with that, a rise in the number of students trying out.
Senior Cole Griggs, who tried out sophomore year, has noticed a greater turnout for tryouts during his time on the program as well.
"We only have about 25 to 30 bowlers that actually know they're coming to make the team. Others just show up because of the free games," Griggs said. "It's still cool though because you get like 70 to 80 people coming to try out."
As the program has grown, they now fundraise and support their own program and others in the school.
"We have a very small budget they give us because [we're not as big as]  the basketball program. So we do a fundraiser, but our kids do a fundraiser so [well]that we're able to help the local Special Olympics team," Pollard said. "We wrote them a $1,000 check last year. This year we're supporting them and the new Make-A-Wish program."
Despite the dramatic increase in popularity, the biggest challenge for the team is the bowling alley itself. Although the teams practice at Park Lanes, compared to the 20 minute drive to Ranch Bowl in their inaugural year, practice time is still an issue.
"We share [Park Lanes] with three other schools that practice there. So we're limited on the number of lanes we get to practice on," Pollard said. "We have limited practice time and just limited space to get better."
The teams also cannot practice when other schools have meets and rarely practice on Fridays due to non-high school bowling leagues.
Griggs hopes conditions improve.
"Hopefully Park Lanes really steps up and lets us practice more times throughout the season because that's how you get better," Griggs said. "We have to put like six to eight people on each lane so it takes up a bit of time."
Despite this, senior Kat Anglemyer, a bowler for four years, continues to put forth effort for the team.
"I feel like people take bowling as joke. But it's really not a joke, it's a sport," Anglemyer said. "We try out for it, we practice. We're always trying to perfect our techniques."
With the team in its infancy, Pollard had to learn how to coach bowling during the program's development.
"I've had to teach myself along the way how to become a better bowling coach," Pollard said "I get better by coaching kids that are newer. I know a little bit more and every year I get a little bit more knowledge of the sport."
Anglemeyer has been able to see first-hand Pollard's improvements.
"[Pollard] is a really good coach and he knows what we're doing wrong and how to fix it," Anglemeyer said. "I hope that he stays and can help the bowling team improve."
Despite how young the program is, Pollard's teams "jumped on the map," by having a state-ranked boys team and sending the girls team to state last year.
"We're always competitive," Pollard said. "Other schools that are traditional bowling schools really like competing against us because we're good."
Correction: An earlier version of this post misspelled a source's name. The correct spelling is Anglemyer.