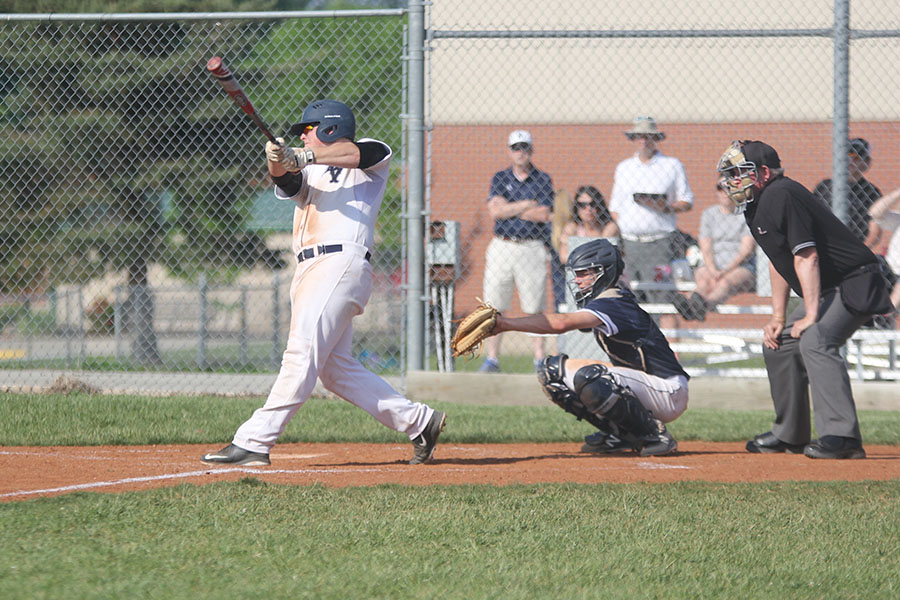 Victoria Wright
In their last home game of the season, baseball took on Blue Valley North on Tuesday, May 9, winning 3-1.
Along with Tuesday's game being the last home game of the regular season, it was also senior night. Before the game began, the senior players were recognized for the time and effort they had put into the program over the last four years.
While the event itself didn't affect the quality of play put out by the seniors, head coach Jeff Strickland still believes it is important to award the seniors for their hard work and dedication.
"I think it's important to recognize kids who give hours and hours and hours for something and dedication over an entire year, and to recognize them in a small way," Strickland said.
Senior Dawson Cantwell believes senior night affected the players honored, but in a positive way.
"I think the seniors were really excited for it, playing their last home game, and we were in a good mood before the game," Cantwell said. "It boosted our morale; we were jumping up and down, bouncing around in the dugout and we were all really excited and that [helped] with our confidence."
The game began scoreless at the top of the first, but that quickly changed when Mill Valley got their first chance to bat. The Jaguars scored two runs in the bottom of the first, a moment that, according to Strickland, set the tone for the rest of the game.
"It always allows you to relax a little bit, but it's a fine line between relaxing a little bit and too much," Strickland said.
Cantwell believes the first two runs in the first were crucial in winning the game.
"We only scored one run after the first inning, and it was a low scoring game so the first two in the first inning really helped us," Cantwell said. "[Without the first two runs] the game definitely would have gone differently. The first two runs gave us momentum and helped us win the game."
Although Blue Valley North is currently ranked in the bottom half of the EKL, Strickland still believes the team was going up against a significant amount of competition.
"Blue Valley North is very very good, and EKL is the strongest baseball league in the state." Strickland said. "Every night you're going to face a good team; there is no exception."
The Jaguars will play against Blue Valley North again Thursday, May 11 at the Blue Valley District Athletic Complex.