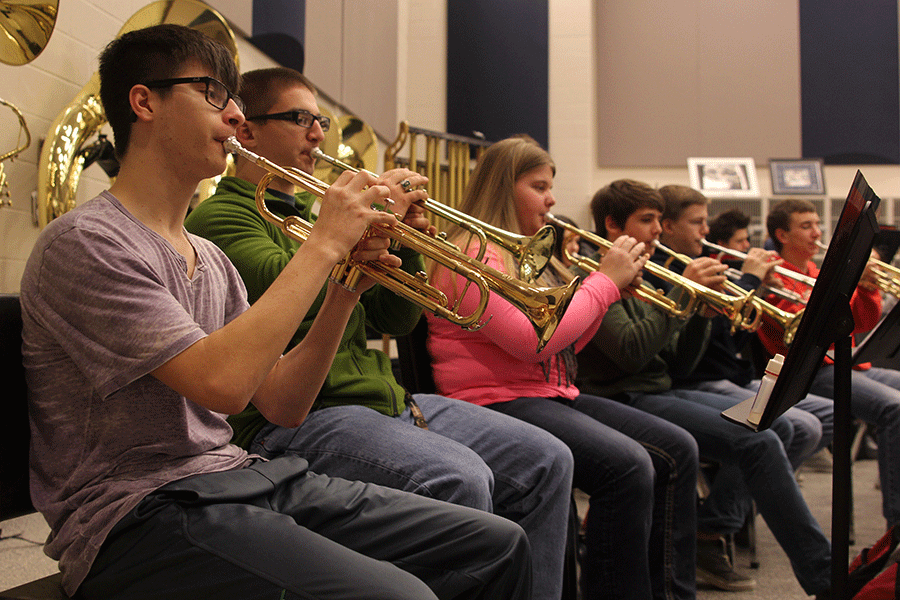 Photo by Jena Smith
Starting the 2015-16 school year, band director Debra Steiner will make changes to both the blue band and the jazz band.
These changes include splitting up the blue band into two groups while the jazz band will now have open enrollment and it will also be split into two groups.
According to Steiner, there are currently 126 students who participate in the blue band.
"I can't even begin to answer everybody's questions, or talk to them individually," Steiner said.
In order to fix this problem, Steiner has decided to divide the band into a blue band and a symphonic band.
"Second semester, we'll have two blue bands essentially," Steiner said. "It's going to be called the symphonic band which will be a smaller band. It's more of a true symphonic instrumentation, so it's going to be a little more rigorous material."
However, Steiner has not made any changes to the blue band during marching season in first semester.
"The major reason why we have to do this is we don't fit on the stage at contests. We're okay here because we play all of our concerts in the gym," Steiner said. "I had to let [the administration and the counselors] know that, 'Look after next year we can't keep growing. We're not going to fit on stage.'"
Junior Brian Fitzsimmons, a trumpeter in the blue band and jazz band, is looking forward to the changes that Steiner is bringing.
"I think it's a move in the right direction," Fitzsimmons said. "With the smaller band people will have a larger role so they'll have to do a good job because there won't be as many people."
Steiner also said that splitting the blue band into two smaller groups will "promote more leadership within the group."
"It's going to make kids much much more responsible. The kids that were sitting back in chair number 20 out of 30, all of the sudden they're going to be like chair number 10 out of 15," Steiner said. "It's going to be a huge difference and [the students] are going to have to step it up."
With the changes coming, Fitzsimmons said splitting the blue band "will allow the band to have more balanced sound."
The major change for the school's jazz band will be the newly implemented open enrollment, as opposed to having to audition to be a member.
"I was not happy with the number of people involved in jazz band," Steiner said. "I'd like to have two jazz bands so I'm hoping this will help that out."
Despite the open enrollment, there will be auditions held within the jazz band to designate a group that performs at concerts and contests.
Fitzsimmons thinks this will help students make more of an effort in the jazz band.
"I really feel this will allow several people the try really hard to advance themselves within the group," Fitzsimmons said.
Similarly, Steiner said these changes will help students become more ambitious within the Jazz band.
"I hope it will promote a sense of competition because now, when you're in it, you're just in it," Steiner said. "Now it's an honor to be in [the group that competes for jazz band] so hopefully they'll make that big commitment."