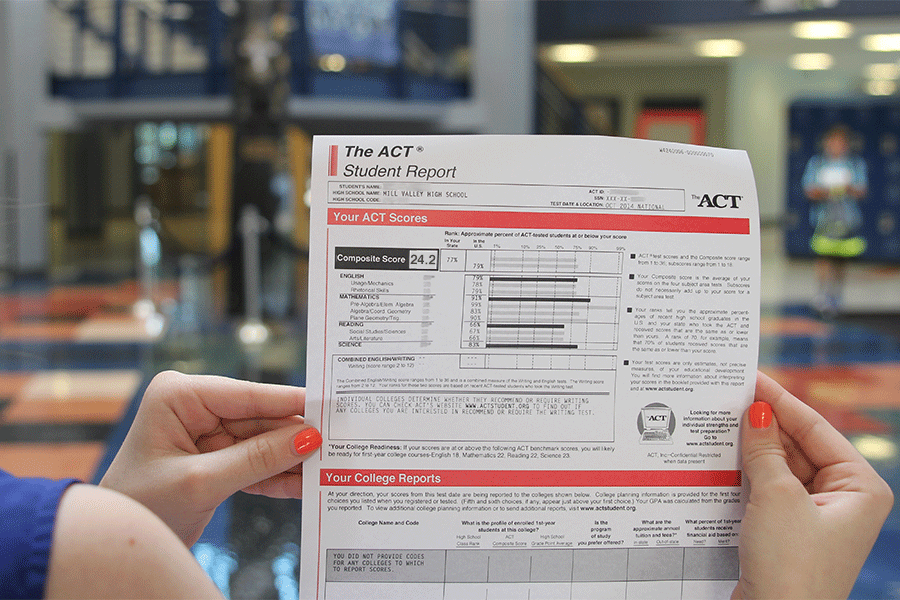 Claire Boone
The average ACT score for the school is the highest it's been in seven years, surpassing district, state and national averages.
For the past school year the average was a 24.2, a 1.2 point increase from the 2007-08 school year's average composite ACT. The school's average ACT scores have been above district, national and state averages since at least the 2004-05 school year.
A statement from the district said this year's average ACT scores show "the extent to which students are prepared for college and career readiness." The school's high scores aren't a shock to assistant principal Leah Vomhof.
"Mill Valley's always performed at a high level," Vomhof said. "I continue to be proud of the work that our students and teachers are doing in the classroom."
Counselor Trish Chandler said a rigorous curriculum can contribute to a higher ACT score.
"I think any time a student challenges themselves … the curriculum they're following is going to prepare them [for the ACT]," Chandler said.
Junior Christian Rule, who plans to take the ACT either this year or next year, finds this to be true.
"[The classes] seem to prepare us pretty well, especially since I'm in AP classes," Rule said.
To specifically help students planning on taking the ACT, the school offers ACT Test and College Preparation, a semester-long ACT preparatory class. Students spend a quarter with math teacher Kristen Chavez, who teaches the math and science sections of the ACT, and a quarter with social studies teacher Jeff Wieland, who teaches the English and reading sections.
"It's definitely one of our popular classes," Chandler said. "I think anytime that you are able to spend more time working on that material … students are going to have a better opportunity to do well."
Weiland commends the school's students for being able to increase the number of people taking the test while also increasing the score.
"The fact that we can increase the number of kids and still make the scores go up is pretty significant," Wieland said.
Senior Karla Kim said the school performing higher than De Soto High School does not come as a surprise to her.
"Mill Valley always has high expectations when it comes to academic excellency compared to other schools," Kim said.
Chandler said she thinks the school's ACT scores can still increase, both in terms of composite score and subscores for each ACT section.
"[I hope] that we continue with this trend of increasing not only the overall composite score, but all the individual subscores as well," Chandler said.
Vomhof takes pride in the school's students and staff for this achievement.
"I was thrilled when Mr. Waldeck shared the news with us," Vomhof said. "We were all very excited, and we're very proud of our students and staff."