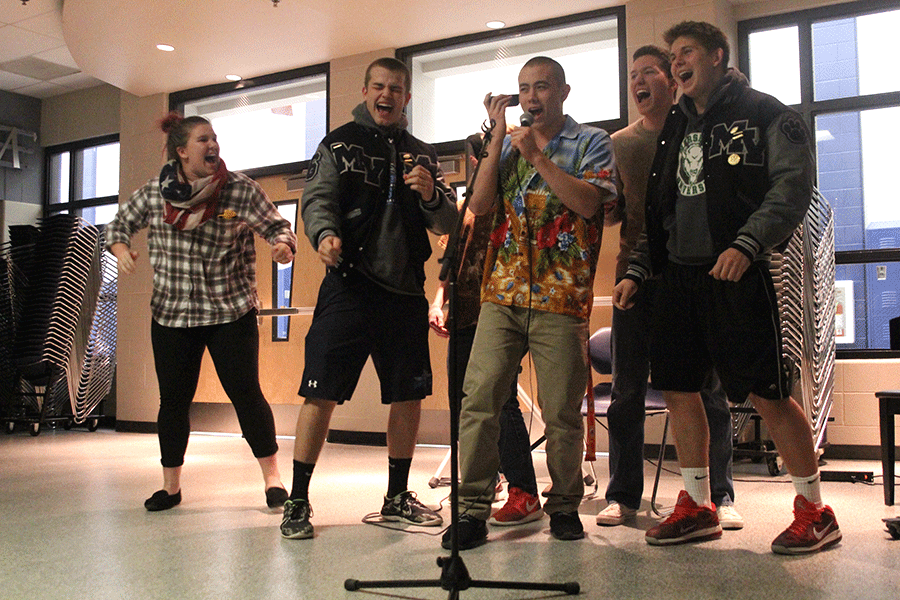 Photo by Morgan Nelson
The dimly lit commons was the stage for the annual Open Mic Night on Thursday, Feb. 26. For an hour and a half, students spectated the performances and some even joined in themselves.
The StuCo committee in charge of Open Mic Night met once a week for three weeks in order to prepare and coordinate the event. The planning process was very easy and "fluent" according to junior Tyler Shurley, who headed the committee.
Performers at the show felt that Open Mic Night was a success, although there were some technical difficulties during the first portion of the show.
"Whenever [the microphone] would get to close to the speaker, it would send out a loud screeching noise," sophomore Brady Herron said. "Other than the microphone, I don't think anyone had any problems.  It was a darn good success"
The event was not only put on for students to have fun watching the various planned acts ranging from poetry recitation to singing performances, it was also an opportunity for students to spontaneously show off their own talents without having to sign up.
"I performed 'Say It Ain't So' by Weezer and an original called 'Everything Will Be Alright' by my band Rad Wagon. I had my friend who's in Rad Wagon, sophomore David Kuk, play lead guitar for it," Herron said. "We didn't really practice for it, we just kind of threw it together because we wanted to have fun. If you wanted to [perform] you could just go up on stage."
According to Shurley, there are plans to bring it back again next year, and possibly multiple times in a year, as a response to the large crowds that showed up.
"We had a really big turnout so I'm hoping we can make [Open Mic Night] happen more often and get more people to come," Shurley said. "I feel like when I do something, people will naturally join in."