Alternate Paths
November 11, 2022
Although they are surrounded by college-bound peers, there are many students at Mill Valley who plan to pursue their interests in other fields such as military, trade school or entering the workforce. 
Alley, who has found her path to the military through family, has always wanted to join the armed forces.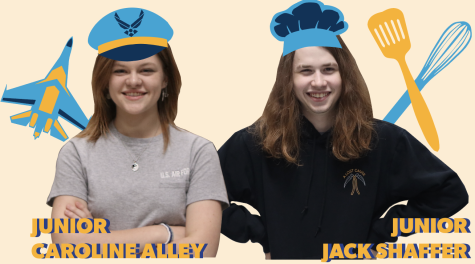 "I always knew that I wanted to be in the military. All of my family has been in the military in some aspect," Alley said. "My dad [is] a medic in the Army. I just never knew exactly what I wanted to do in the military."
Also considering an alternate path, senior Jack Melvin is looking at trade school, though he is ultimately undecided on his plans. Similar to Alley, Melvin's family has supported his interests in trade school.
"I feel like my parents are pretty open with the idea of me going to trade school or college," Melvin said. "They're pretty open with my ideas after high school."
For junior Jack Schaffer, baking has been a passion which he has already begun to pursue where he currently works at Strang Hall. In addition to working, Schaffer hones his craft in his free-time to prepare himself for the job market so he can be able to do what he loves.  Shaffer plans to continue working in baking after high school, and even potentially open his own restaurant.
"I like the creative options [baking] gives me and I'm actually really passionate about it," Schaffer said. "I do a lot of research. I do a lot of home baking. [It] just kind of grows. Doing something that I'm passionate about personally, I think that's one of the meanings of life, really."
According to Schaffer, having already chosen and begun working toward a career makes the required IPS and Xello unimportant.

"[Xello has] not really [helped with my goals]," Schaffer said. "I think Xello is more for people who are trying to learn what they want to do, not people who know what they want to do. I don't think it's a bad idea to do Xello, but I don't think it should be mandatory for a lot of students."
Additionally, Schaffer finds the efforts the school puts in toward preparing students for college to be at a higher priority than preparing them for alternate paths.
"I think high school really prepares students for college but not real life, and real life and college are not the same thing," Schaffer said.
This real-life preparation is critical for students like Alley with her Air Force career. In order to enlist in the program she is looking at, she must keep in mind enlistment restrictions and requirements including academic prerequisites in high school and a congressional letter of recommendation.
"Having made that decision now helps me do the things that I have to get done before I can get to that level," Alley said.
(Visited 1 times, 1 visits today)