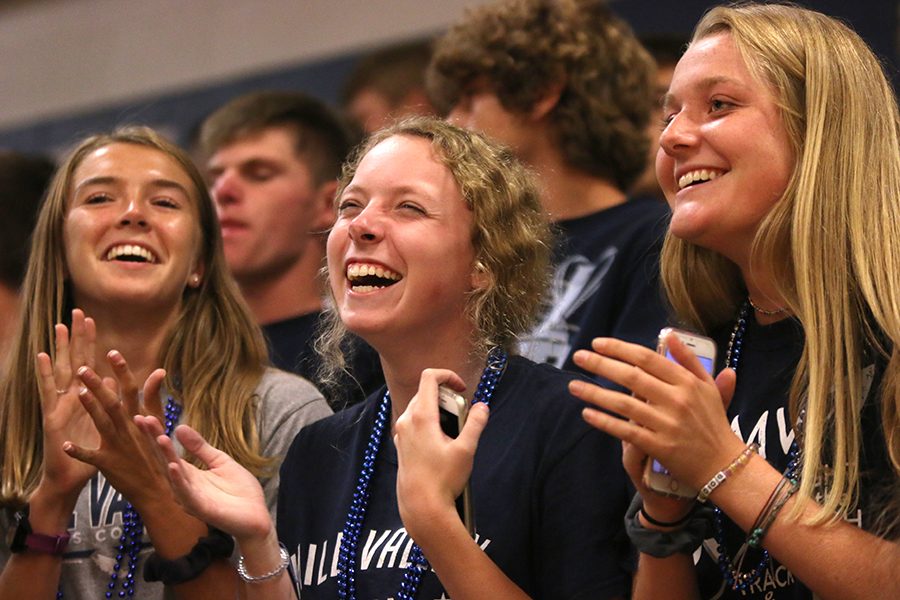 Abby White
Getting students excited for the upcoming Homecoming game, the first pep assembly of the year was held on Friday, Sept. 20. The assembly was put on by StuCo to increase the student body's school spirit and introduce the 2019 Homecoming candidates.
Senior class treasurer Chloe Griffin believes that pep assemblies boost school spirit and give students a chance to have a good time.
"I think that pep assemblies really boost school spirit, especially for things like this [Homecoming] because you get to actually see the people and see them have fun," Griffin said.
The band began the pep assembly with the school fight song which was soon followed by performances by the cheerleaders and Silver Stars.
StuCo members also introduced a new chant during the pep assembly and videotaped the student body paying homage to principal Tobie Waldeck through yet another chant. For sophomore Mary Fabac, the 'Tobie' chant was one of the highlights of the pep assembly.
"I thought [the 'Tobie' chant] was iconic," Fabac said.
As in years past, all of the homecoming candidates participated in a light-hearted game during the pep assembly. Seniors Avery Altman, Adrien Blazer, Morgan Blubaugh, Cline Boone, Annie Bogart, Clint, Chappell, Ashlyn Dempsey, Gavin Fangman, Ashely Grega, Nathan Greenfield, Lauren Johnson and Ben Stove engaged in a dodgeball-esque game with a select group of teachers in the hopes of 'rescuing' aliens from Area 51. This homecoming game was one of sophomore Amy Hill's favorite parts of the assembly.
"I really enjoyed the homecoming game [that the candidates played] because it was funny," Hill said.
In the future, Griffin hopes that the pep assembly attendance stays constant.
"For future pep assemblies next semester, I hope that we get a good senior turnout even with part-time seniors," Griffin said.