Cross country comes in second at meet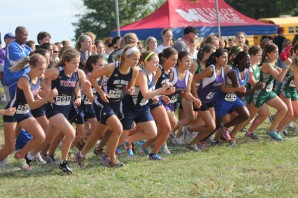 Photo Credit: Miranda Snyder
Katherine White, writer
September 20, 2012
Filed under Boys cross country, Girls cross country, School, SPORTS
The cross country team came in second at the meet at Bonner Springs High School Saturday, Sept. 15.
Freshman Amber Akin came in third in the girls varsity race with a time of 15:20, setting a new school record. In the boys varsity race sophomore Callahan Eckardt came in 13th with a time of 17:15.
In junior varsity, junior CJ Meeks came in first and sophomore Maddie Butterfield came in 20th.
Ekhart feels that the team is going to do well over the course of the season.
"I feel great about the team this year," Eckardt said. "We're really strong, with both the guys and girls."