Hookah bars provide social setting for older students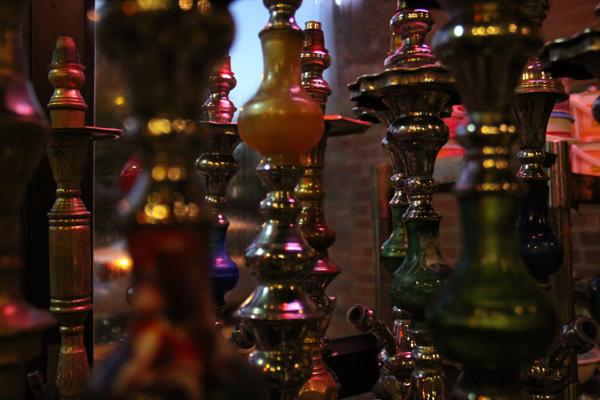 Editors' note: The intent of this article was to feature a growing trend in America that has made its way to Shawnee. The JagWire staff stands by its original decision to run the article, however, we regret any misunderstanding about the intent. According to the Center for Disease Control, smoking tobacco out of a hookah has been associated with cancers of many sorts, decreased lung function and decreased fertility. We hope that our readers will learn more about the dangers of hookah smoking here. Read more about the JagWire's decision to run the article here.
The sound of Middle Eastern music fills the smoky room where people lounge on various chairs and couches. The visible smog in this Westport hookah bar, Sinbad's Cafe & Hookah Lounge, and many others like it, is created by the customers who are smoking flavored tobacco out of multiple, multi-colored hookahs.
Hookah smoking, a practice that originated in ancient Persia and India, has gained popularity among youth in recent years. Sinbad's owner Sami Mahmoude has his own theories about this heightened popularity.
"[For] young people, I think, it has become a Starbucks idea. In this age, you want to go hang out where there is no responsibilities. You want to kill time," Mahmoude said. "This is something new."
Hookah smoking becomes legal to do at bars or at home when the user turns 18, and allows for people 18 years or older to purchase hookah tobacco called shisha, a moist and sticky tobacco. When smoked in hookah bars, customers can then sit down with a small group and smoke the shisha out of a hookah provided by the bar.
Senior Jake Waters, who occasionally works at Sultan Hookah Bar on Shawnee Mission Parkway, believes the popularity of hookah bars in youth results from the freedoms that come from turning 18.
"I think it's exciting for 18-year-olds to go there because now they can go legally," Waters said. "I just think it's because they're excited they're turning 18."
Senior Margo Bradley went to a hookah bar for the first time on her 18th birthday in January.
"It's just relaxed. You get to hang out with friends," Bradley said. "You get to try different flavors and meet new people."
Senior Andrew Geise also began going about a month ago.
"It's just a social thing. It's a lot of fun to hang out with friends and do something while you're talking to them," Geise said.
Mahmoude enjoys allowing his customers to have this experience. According to Mahmoude, Sinbad's atmosphere is a combination of American and Arabic styles. It is inspired by Mahmoude's childhood home of Palestine, where he first experienced hookah smoking and its cultural significance.
"In the Middle East, we follow religion a lot. For example, we're not allowed to drink as Muslims. People there, they cannot have a drink, they cannot go to bars," Mahmoude said. "That is why they come to the hookah bar. They're kind of like a club, but a quiet atmosphere."
Bradley agrees with Mahmoude that the bars are a comfortable place for people to hang out, as well as with his statement that hookah bars have become "a Starbucks idea."
"I'd agree [it's like Starbucks] because it's just one of those fads that's growing and it's becoming more and more popular," Bradley said. "Plus, they serve coffee and tea, so it really does have the same atmosphere except with hookah."
Geise holds a similar view.
"To the people that know about them, then yeah, I would definitely see it being like 'the new Starbucks,'" Geise said.
Hookah also allows for experimentaion with new flavors and smoking techniques. According to Geise, the best part of smoking hookah is "making the cool smoke rings. It's so much fun."
Bradley agrees this is best part.
"I am not good at [making smoke rings] at all, but I try," Bradley said.
Both students also enjoy getting to try new flavors of shisha. Bradley's favorites are "any kind of fruit mixed with mint," while Geise's favorites are rose and berry.
This freedom to experiment along with the atmosphere of hookah bars are what make Mahmoude believe that are so popular.
"People want to lose their minds sometimes," Mahmoude said. "It's a nice way of getting away from problems or also to have fun."